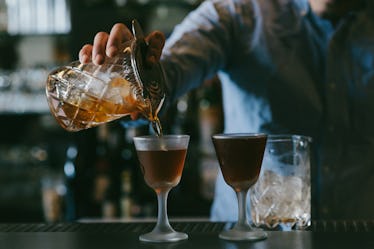 10 Non-Alcoholic New Year's Drinks That Taste Better Anyway Without All The Booze
New year's celebrations can honestly be a total bust sometimes. You have to find something to do (although I vehemently believe in staying home), and it's pretty aggressively implied that people are supposed to drink copious amounts of alcohol, for reasons that go unexplained each year. But this year, your new year's party options are about to blow themselves wide open, because there are actually tons of non-alcoholic new year's drinks that taste way better than anything you were going to add whiskey to.
Although one of the biggest aspects of any holiday is the set of traditions that come with it, I refuse to believe that "drinking" is an acceptable bullet point or required tradition in order to do the New Year's Eve holiday right. After all, celebrating the onset of another year is cause to celebrate with your friends, and what better way to celebrate than by having conversations you'll actually remember the next morning?
Whether you love herbs, or citrus, or frozen drinks, there's a mocktail recipe out there for you, and the best part about the whole thing is that you won't spend the first day of the new year with a pounding headache! Here are 10 non-alcoholic drink recipes to help you ring in the new year.