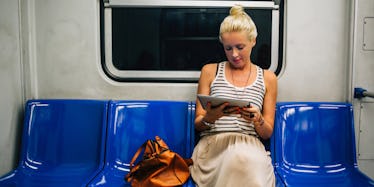 Here's How You Can Meditate & Let Go Of Stress During Your Commute Home Every Day
If you typically ride the subway to and from work, then you know it's all too easy to grow to resent your commute. From the overcrowded, smelly subway cars, to the constant delays between stops, that time spent in transit can make you want to tear your own eyes out, especially after a stressful day at work. That's why learning how to meditate on your commute is an absolute game-changer, not only for finding those foolproof ways to calm your mind at the end of a hectic day, but also for making it through the mess that is your daily commute without totally imploding.
The next time you hop on the subway during rush hour, take a look around at everyone on the train with you. Most people probably have their heads down, immersed in the mindless act of scrolling through their phones to check social media (and hey, you may even be guilty of that, too). And though the habit might seem harmless, checking your phone all the time may contribute to anxiety, according to ABC News.
Incorporating a mindfulness practice into your daily commute, rather than amping up your mental stress through smartphone scrolling, is a great way to let go of any stress you've built up during the work day, or even the frustrations that are inevitably stirred up from those major #SubwayStruggles.
What's more, if you've been telling yourself for a while that you're going to start meditating, but your excuse has been that you "don't have enough time," your commute might be the ideal window of opportunity you've been looking for to kickstart your practice. Here are six ways you can meditate on your daily commute that will have you feeling cool, calm, and collected in no time.