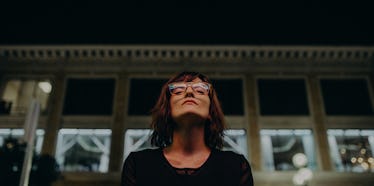 Here Are 6 Things To Keep In Mind If Meditation Doesn't Seem To Work For You
Meditating can be quite the challenging task. If you've ever attempted to include the practice in your life, but "failed" soon after you started, I'm going to assume it looked something like this: You sat down in total silence, did your best to focus on your breathing, realized your mind wouldn't STFU for longer than a couple of seconds, and ultimately decided mindfulness must be a load of BS. When meditation isn't working for you, it's easy to think you're just not "zen" enough for the practice, and that you're simply not cut out for it for whatever reason.
Even if you've tried to sit down and practice mindfulness time and time again, with seemingly no real results, let me be clear: Anyone is capable of meditation. That doesn't mean it's easy, but it does mean it's possible, and it honestly just takes some people longer to grasp than others. There's truly no right or wrong way to do it; the long-term benefits of meditation simply require patience and consistent dedication.
If you feel like you're "failing" at meditating, I can assure you that's not possible. Here are six things to keep in mind if you feel like meditation just isn't working for you.