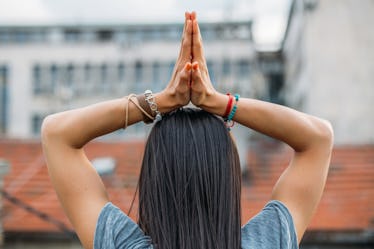 A Spiritual Teacher Reveals How You Can Avoid Falling Asleep During Meditation
Admit it — if you've ever tried to sit down and meditate in the morning, you've had the following problem: You're sitting there, you're sleepy AF, and while you're super proud you've given yourself 15 minutes to sit and breathe before work, you drift back to sleep. We've all been there! If meditating is new to you, or heck, even if it's something you've been doing for a while, learning how not to fall asleep during meditation is pretty key if you want to snag some of the many benefits, and keep on rolling with your daily mindfulness practice.
Listen, don't beat yourself up if you've nodded off while trying to be ~zen.~ Meditation can be so dang calming, it's no wonder you're drifting off sometimes. But meditating in the morning before you start your day is a great way to decrease your stress levels and improve focus and productivity throughout the day, among a variety of other benefits. Bottom line: It's worth finding a way to stay awake for it.
According to spiritual teacher, Biet Simkin, there's one important, and probably obvious tip to follow if you're fighting the snooze during your meditation sessions: don't lie down. Seems simple enough, right? But plenty of people try to meditate right when they're still in bed, after their alarm goes off in the morning, and their heads are still cozied up on the pillow. It's comfy, sure, but it's not doing you any favors to help you stay awake.
Even if it doesn't feel like your ideal position, Simkin says you're better off sitting than lying down when it comes to meditation.
"Always sit when meditating, because otherwise, you might fall asleep," Simkin tells me in an interview with Elite Daily. "Be slightly uncomfortable in lotus pose; this helps you stay awake."
Including different tools in your meditation sessions, she adds, can add a dynamic that helps you raise your energy and keep you up.
"Use tools like breath work to enliven the experience, and keep the room at a [comfortable] temperature: not too hot, as that can put you to sleep, too," she explains.
It's also important to create a space in your home that welcomes meditation, Simkin says. If you haven't done so already, try setting up a little meditation area for yourself that exudes nothing but calm, positive vibes — even if it's just the corner of your bedroom.
"Using candles, incense, and flowers can help you," the spiritual teacher tells Elite Daily, adding that guided meditation videos, or even a bit of gentle music, can all help to keep you awake, and of course, make your meditative experience that much lovelier.
Oh, yeah, and unexpected tip?
BTW, Simkin totally isn't against using a little coffee to keep you awake during meditation, in case that was something you were avoiding.
In fact, the spiritual teacher tells Elite Daily she almost always has at least a little bit of caffeine before she meditates.
"I find being awake and alert for my meditation is a good thing," she says. "But I am not so sensitive to caffeine, I am a super mellow person. This isn't good advice for someone who is already high-strung."
If you know caffeine tends to make you more tense than anything else, MindBodyGreen reports water can also be great to sip on during meditation. Even just the act of reaching for something to drink, the outlet explained, can be enough to keep your mind a bit more alert, regardless of caffeine, or lack thereof.
If you've tried all of these things, and you're still dozing off during your meditation sessions, you might just need to sleep more, my friend.
Maybe there are mornings when you should just give yourself the extra time to clock in a few more minutes of snooze time, you know? Repeatedly falling asleep during meditation might just be your body's way of telling you it needs more rest in general, which is just as important as getting your mindfulness on, if not more-so.
In the meantime, maybe try moving your meditation practice to the evenings right before bed. That way, if you do nod off, that's kind of already what you were aiming to do that time of day, right?