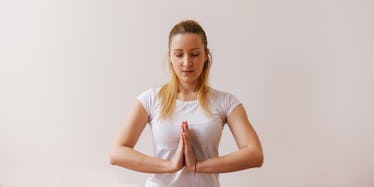 5 Myths About Meditation That Have Kept You From Finding Your Center Your Whole Life
The thought of starting a meditation practice can be intimidating as hell. Like, you know how amazing it's supposed to make you feel, both physically and mentally, but honestly where in the world do you even start? Plus, the many myths about meditation floating around in the world make the whole concept seem that much more daunting.
But the good news is that I'm willing to bet nearly all of the supposed "cons" you've likely heard about meditation are straight-up not true. For example, no, you most certainly don't have to be a spiritual guru who burns sage every morning at dawn just to practice the art of meditation.
Meditation, as it turns out, is actually way more simple than you might be making it out to be. When you get right down to it, meditation really only requires two things: you and your breath. Once you begin incorporating just a few minutes of meditation into your routine each day, you'll be able to bask in the incredible glow of the physical and mental benefits that this ancient practice promises.
But if you still feel like there's something holding you back from quieting your mind, here are five myths about meditation that are most likely preventing you from sitting the f*ck down and finding your center.