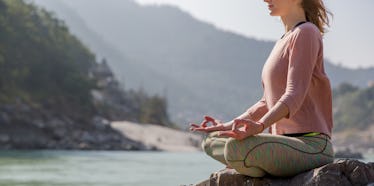 5 Weird Things That'll Probably Happen To Your Body When You Meditate
When I first started meditating, I honestly thought it was going to be the easiest thing in the world. Like, how hard can breathing and sitting still with your eyes closed possibly be, right? However, I quickly learned that the art of silencing your mind is much more difficult than it may seem. And as I deepened my practice, I started experiencing all of these weird things that happen when you meditate — things I'd only heard about from my friends or read on the internet, but never actually believed to be true.
Sitting in silence with your own thoughts for an extended period of time can teach you a lot about yourself, as well as the areas of your life that maybe need a bit more of your care and attentiveness. Having said that, there really is no right or wrong way to meditate. By taking just a few minutes each day to do so, you'll reap tons of awesome benefits, like reduced stress, improved concentration, and a genuine sense of calm and happiness.
Still, despite those benefits, there are some, shall we say, unexpected feelings — both negative and positive — that may pop up during your meditation sessions. They may catch you off-guard, or they may even make you feel weird as all hell. Here are five bizarre feelings you may experience during meditation; but remember, they're all completely normal. When they surface, simply breathe through them, and observe the sensations without judgment.