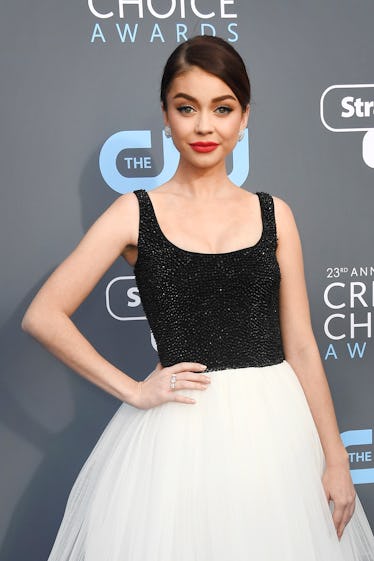 Sarah Hyland Shared Topless Photos On Instagram & Got Honest AF In The Caption
Frazer Harrison/Getty Images Entertainment/Getty Images
Sarah Hyland is a freaking riot to follow on social media. The Modern Family star always keeps it 100 percent with fans and isn't afraid to share the good, the bad, or the morning face mask. Recently, Hyland took to Instagram to post some artsy black-and-white photos she took of herself in the bath. Of course, some people started commenting on the amount of skin Hyland was showing. That's when the actress stepped up to share an empowering message. Sarah Hyland's topless photos on Instagram actually tell the world that Hyland (and all of us) are "human."
Hyland originally shared the three photos on Jan. 14. She looks gorgeous and genuinely happy with minimal makeup and her hair wrapped in a towel. After seeing the reaction to the photos, Hyland decided a caption change was needed. She used the opportunity to share a memo about body positivity and being comfortable in your own skin. She wrote,
Caption change: Women are funny. Women are brave. Women are caring and strong. We are raw and tough. Our bodies defy reason and our minds are powerful. I'm confident. I'm insecure. I'm a woman. I'm human. Think whatever you'd like about these photographs. I like to think of them as moments of art and expression suspended in time.
Hyland's honesty gained her tons of support from fans. Her DGAF attitude is why people love her.
Fans not only appreciated Hyland's artsy approach to her Instagram feed, but her confidence, too. User @ashley_mac12 said,
This is art! This is powerful! The third photo is my fav! You're beautiful! You're strong!
Instagrammer @lindsay428 encouraged Hyland to stay positive and fearless. The comment said,
This is why I love you @sarahhyland....not giving a hell what other people will think...Keep that mentality, people saying anything negative are just jealous.
It's hard not to fall in love with Hyland, and @durusacinti agrees. They said,
You're amazing! I'm really appreciating the caption and your responses towards the haters.
I think @indigoskies said it best when they stressed how important it is to "love yourself." The comment read,
I think you are just courageous to be yourself and love yourself in your own skin and that is commendable...true woman
This is not the first time Hyland has spoken up when it comes to her body and the freedom she has to show (or not show) whatever she damn well pleases.
In November, Hyland posted a photo of herself, boyfriend, Wells Adams, and Adams' beloved bloodhound Carl snuggling in bed. People started commenting snide remarks hinting that it looked like Hyland was naked.
Hyland clapped back on Twitter in response to a message that asked her to keep her "sexual life private" by saying,
She just brought to my attention that that picture I posted might have been inappropriate since we're in bed. So I just have to say I'm so sorry…FOR POSTING AN ADORABLE PICTURE BECAUSE CARL WAS ACTING LIKE THE NUGGETIEST SNUGGLE BUG! Couldn't let that moment pass without getting a picture.
She continued by explaining that she enjoys sharing what she deems "appropriate" because her fans are so loyal and loving.
The only things I share about my [life] with you all is through Instagram and Twitter. I do want my privacy. Especially in relationships. I've made the mistake in the past on being way too open and talking way too much about them. This time is different. It's special. And I will share what I [deem] 'appropriate' on social media because I still want you all to be updated. Because you guys are the greatest fans in the world. I even hate saying fans…because you're people. You're people who have had chronic illnesses, eating disorders, [troubled] family situations that Modern Family helps you get through. People who share their stories with me and I love you all for that. So thank you for always [being] so wonderful.
The actress concluded by pointing out she's hardly showing any skin in the photo.
ONE MORE THING! I just realized I'm being criticized for being naked… which you don't even know if I am! You can barely see any skin but it's ok for Instagram models to roll around in the sand ACTUALLY naked? (I mean I'd post that too if I looked like that.) My point is don't be hypocrites. Either be conservative on all fronts or FREE THE NIPPLE.
It's great to see Hyland take charge of her life and the confidence she exudes while doing it. In conclusion: Do not mess with Sarah Hyland because you don't stand a chance. Keep kicking ass, lady.
Check out the entire Gen Why series and other videos on Facebook and the Bustle app across Apple TV, Roku, and Amazon Fire TV.