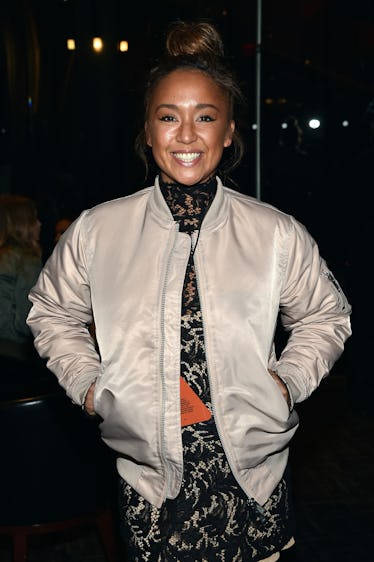 This 'Revenge Body' Trainer Revealed Exactly How To Stay Committed To Your Workout — EXCLUSIVE
Dimitrios Kambouris/Getty Images Entertainment/Getty Images
In a world full of renowned personal trainers and athletes, describing Nicole Winhoffer as one of the most original would be an understatement at best. The NW Method founder considers herself a "fitness artist," someone who focuses not only on transforming her clients' bodies, but doing so in a way that inspires inner expression. Through meticulously designed choreography, the 34-year-old strives to ignite passion in everyone attending her studio classes, including the A-listers she's trained one-on-one. So when Revenge Body trainer Nicole Winhoffer's advice for workout motivation came up in an exclusive interview with Elite Daily, it didn't surprise me that each tip had a common theme: finding and sustaining enthusiasm.
Having worked with Winhoffer in the past (yeah, we're kinda close, NBD), I was excited to catch up over a quick phone call in between her preparations for the upcoming Propel Co:Labs Festival, where the NW Method founder will be living out one of her own aspirations: dancing alongside the vocal stylings of rapper Ludacris.
"It's a dream come true," she tells Elite Daily, admitting proudly, "it was on my vision board."
Checking things off her to-do list, no matter how big or small, is what keeps Winhoffer thriving in the industry. But I can hear in her voice that dance and fitness isn't just work for the performer; it's a passion.
"I really loved being a part of [Revenge Body]," Winhoffer says, "because it supports inner health, and the importance of mind and the heart, and not just the physical appearance."
When it comes to fitness in general, Winhoffer explains, her approach is unique because of her desire to inspire passion in people. Sure, the moves in her classes focus on things like sculpting the arms and contouring the booty, but dancing is about so much more to this coach than aesthetics, and that's something she hopes anyone and everyone will experience during their fitness journey: finding something they love, genuinely enjoying the process, and allowing the transformation to come as a natural, added bonus. Here are some of her tips for achieving those exact goals.