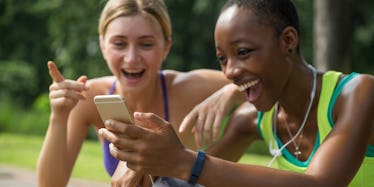 Here's What Your Workout Routine Reveals About Your Personality
When it comes to finding a workout routine that fits you to a T, everyone has different schedules and interests that factor into the equation. While one person might crave the sound of their alarm in the morning to head to a sweaty cycling class, the next could cherish those evening hours in their go-to restorative yoga class. You might not realize it, but your workout routine says a lot about your personality, especially because it reflects what you're into, and all of your goals when it comes to your health and well-being.
Honestly, there's no right or wrong when you're trying to create a workout routine that caters to your individual lifestyle. As long as you're moving your body in a way that makes you feel incredible, mentally and physically, you're killin' the game, fam. I mean, personally, the thought of setting an early morning alarm to go for a jog before work makes me want to violently projectile vomit, and I'll never be organized enough to squeeze in my favorite workout class on my lunch break — so p.m. workouts are where it's at for me.
Regardless of what your workout routine looks like, or what time of day you choose to sweat it out, here's what the most basic aspects of your routine reveal about your personality.