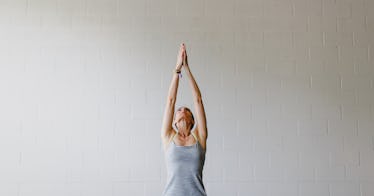 This Is How You Should Motivate Yourself To Work Out, According To Your Zodiac Sign
You know those days when you're torn between squeezing in an aggressively sweaty HIIT circuit or balling up into a cocoon in your bed and taking a Chipotle burrito to the face? Motivation, man — it can be so freaking hard not to let the guac and carbs hypnotize you into a state of lazy oblivion. However, if you tap into some of the inner workings of your zodiac sign, you just might figure out how to motivate yourself to work out.
Of course, there are so many things you can turn to for gym motivation, from creating a kickass pump-up playlist to rewarding yourself with a beautiful new pair of Lululemons. But according to a study from the Annenberg School for Communication at the University of Pennsylvania, healthy competition is a prime source of motivation when it comes to exercise.
Now, in the end, there's no one-size-fits-all motivator that'll work for everyone. Whatever motivates one person might not affect the next at all.
But that's where astrology comes in clutch. When inspiration is lacking, sometimes tapping into your horoscope provides just the insight you need to help you see what truly sparks your ambition.
So, if you find yourself one day in need of a metaphorical kick in the butt to go to the gym, here's the best way to motivate yourself according to your zodiac sign.