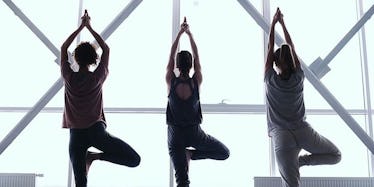 This Is The Yoga Pose That'll Keep You Calm In 2018, According To Your Zodiac Sign
The new year is the perfect time to experiment with new and rejuvenating ways to move your body and strengthen your mind. And what better way to foster a powerful mind-body connection than by getting on your mat and treating yourself to a fulfilling, gentle yoga flow? Including some grounding and nourishing yoga poses for 2018 into your practice will give your body an incredible dose of TLC. If you're not sure where to start, though, I highly recommend catering your practice to coincide with your zodiac sign to make your time on the mat truly magical in the new year.
Whether you're looking to deepen your yoga practice and experiment with new movements on the mat, or you're simply fascinated by astrology and love learning new things about your star sign, combining the strong practices and beliefs of yoga and astrology will lead you to the perfect asanas to strengthen and refine your innermost personality traits.
Plus, let's be real, the gym is going to be crowded AF for the whole month of January, so taking sanctuary on your mat and moving through fluid vinyasa flows at home will be a welcome change from the usual chaos at the weight rack.
So, as the new year approaches, take some cues from astrology and line up your yoga practice with the stars and all the energy that surrounds you.