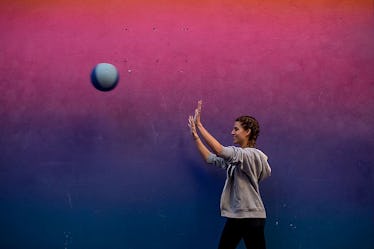 This Is The Workout You Need To Try In The New Year, Based On Your Zodiac Sign
Whether you're preparing to completely slay your new year's resolution to work out more, or you simply want to mix up the routine you already have in 2018, your zodiac sign could contain all of the secrets you need for the most effective sweat sesh in the new year. Astrology can teach you so much about yourself, and that information can be particularly great for helping you figure out what you like and don't like, especially in the gym. So when you're thinking about workouts to try in the new year, but you're stumped by the huge range of options, let your star sign do its damn job and lead the way.
Let's be real here people: 2017 was a f*cking trip. I mean, maybe you had a grand old time, I don't know your life, but personally, I know I'm not alone when I say there were an aggressive amount of ups and downs throughout this rollercoaster of a year.
So, in the name of starting 2018 on the right foot, don't waste your time on workouts that won't make you feel like the strong-ass goddess that you truly are. When Jan. 1 rolls around, take a hint from your zodiac sign and immerse yourself in workouts that will provide your body with loads of feel-good endorphins and help you truly thrive in the new year.