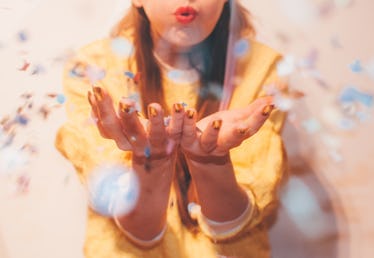 6 Healthy Habits To Adopt In The New Year That You'll Actually Want To Stick To
I'm making an executive decision this December, people: Instead of coming up with an unrealistic set of new year's resolutions that will totally floor you to the ground within the first week of January, let's all consider some healthy habits for the new year that are actually doable, that we genuinely want to stick to. Wouldn't you say we're all overdue for a positive change?
New Year's Eve isn't really the healthiest holiday by a long stretch; it usually involves heavy drinking, little to no sleep, and a whole lot of promises that will be broken by around 4 p.m. the next day. Although a lot of this can be good, clean fun, it also wouldn't hurt to make an effort to have a slightly healthier new year to set a positive tone for the next 12 months of your life.
Whether you're making a resolution to eat more fruits and vegetables, or even if you're just promising yourself that you won't cancel on the dentist for the fifth year in a row, there are tons of ways to make your life a little healthier without feeling like the rug has already been pulled out from under you come Jan. 1. After all, health isn't just about what you put in your body; it's about how you approach your physical, mental, and spiritual wellness. And once you start to approach your health with that kind of mindset, it blows the door wide open with all of the resolutions you could accomplish.
Here are six new year's resolutions to get your mental juices flowing with inspiration for a healthier, happier 2018.