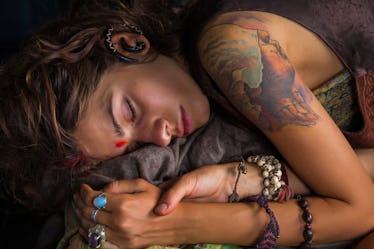 10 Myths About Sleep That Have Been Keeping You Up Your Entire Life
Sleep can be an elusive mistress. Sometimes it feels like the more you want it, the harder it is to find and hold onto. What's more is that one of the many myths about sleep that we constantly perpetuate is that it should be treated as an optional benefit or a weekend hobby, when in truth, it's as vital to your health and survival as breathing, eating, or drinking water. It sounds a little boring, but you should think of sleep as one of the central parts of each of your days, one that allows you to fully enjoy your waking moments and be as present as possible so you're not dragging yourself through life like a complete and utter zombie.
Sleep, when given the respect it deserves, should be something you look forward to. It's honestly difficult for me to understand how anyone would rather stay up for hours on end scrolling through Twitter or watching Netflix when they could be snuggled up in bed, but I respect and acknowledge that some people like sleep less than others. Still that's exactly why it's so important that we all know the truth about how sleep actually affects our lives, and how it doesn't. Here are 10 myths about sleeping that you've likely thought to be true your entire life, even though they're totally false.