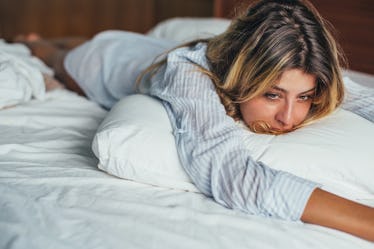 6 Difficult Realities You Face When You're Living With Endometriosis
For those of you living without endometriosis, consider yourselves incredibly lucky. It can be hard to understand and empathize with the pain someone else endures, especially in the context of an affliction such as endometriosis, where women are often suffering in silence. To be fair, most people have no clue just how severely endometriosis can affect someone, let alone the pain it can cause. So just exactly what is endometriosis pain like?
To put it bluntly, living with the disorder can be absolutely awful. Endometriosis is the abnormal growth of endometrial tissue (the stuff that lines the uterus) in places outside of the uterus, such as the ovaries, the fallopian tubes, and the surface of the uterus. This leads to incredible sensitivity and pain for women that can last for the duration of a period, or can even be a source of constant pain. One in 10 women are afflicted with this painful disease (that's around 170 million women, BTW), although many estimate the number to be much higher due to misdiagnoses and repressed concerns.
Endometriosis, though not usually life-threatening, is an incredibly painful and largely undiscussed affliction, the pain of which is only increased by the levels of misunderstanding that surround it. Here are six realities of endometriosis that you face when living with the disorder.