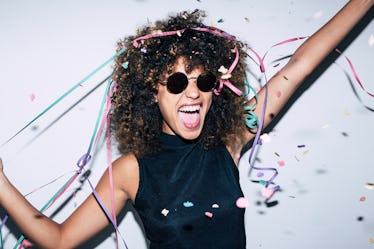 7 Realistic Resolutions For Feeling Happier In The New Year, Because 2017 Was Rough
2017 is slowly but surely coming to a close, and I think most of us can say we'll be ringing in 2018 with a sigh of relief. To say that this year was a strain both politically and socially is an understatement, and I can almost guarantee that most of us are trying to figure out how to be happier in the new year after enduring this seemingly never-ending joke that was 2017. Ashton Kutcher, where are you? We'd all like to end this episode of Punk'd now, please.
The world we'll wake up to on Jan. 1, 2018 won't be the same world we entered exactly one year ago. You never really notice how the atmosphere has shifted until you look back over the past 365 days and realize that, considering the events of the year that's passed, there is simply no way we can move forward without feeling changed in one way or another. Unfortunately, 2017 introduced our country and the world we live in to a lot of heartache, natural disasters, and man-made tragedy. But my hope is that we can all find solace in a clean slate and learn from our misfortunes moving forward.
2017 was rough, but come Jan. 1, we have the opportunity to reflect on the year we'll be putting behind us, and revel in the start of something new. Here are a few realistic resolutions you can make in order to ensure you'll be happier in 2018.