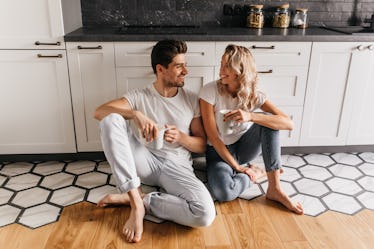 11 Stories About How Quarantine Forces New Relationships To Move At Warp Speed
Shutterstock
When you start dating someone new, there's a certain cadence to how things progress. You have a few dates and you have your first makeout (and promptly brag to your squad about it). If things go well, you define the relationship at some point, meet each other's friends and then families. If things are still going really smoothly, you might eventually start talking about living together or getting married. For couples who met right before the coronavirus pandemic, however, that predictable trajectory has been turned upside-down. Since being in quarantine puts a lot of pressure on new relationships, it seems to serve as an accelerator.
Couples who were just freshly boo'd up when quarantine began are facing a unique set of circumstances. Not only do they have to make a number of serious decisions together (like whether or not they'll move in together for the sake of safety), but they also may be forced to grapple with challenging obstacles as a team, like coping with the stress resulting from this global crisis, adjusting to long-distance if they're quarantined apart, and potentially seeing each other through a loss of work and financial struggles.
"Couples are spending a lot of time together, and asking each other thought-provoking questions to learn more about each other," says Julie Spira, an online dating expert and creator behind the advice site Dating in the Age of COVID-19. "Relationships are growing deeper with meaningful conversations. Bonding during a crisis is real."
With fewer distractions and far more idle time to spend with their newfound partner, it's no wonder many of these new relationships are progressing much faster than normal. According to Spira, there are pros and cons to these "fast-tracked relationships." On the positive side, these couples may be able to both experience deeper intimacy and assess their compatibility more quickly than they would under normal circumstances.
"The downside to falling in love quickly with your pre-coronavirus sweetheart is you're projecting to the future and may make promises you can't keep," she explains. "After the honeymoon period ends, you have to decide whether this person is a fit for you for the long haul or just someone to be at your side during the pandemic. When life goes back to the 'new normal,' you'll know if your relationship is for keeps."
While couples' experiences obviously range drastically, here are some stories of romances that were fast-tracked by the pandemic.