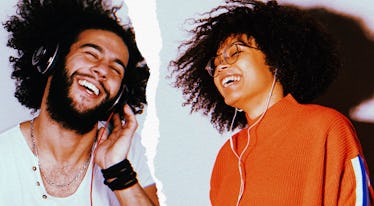 11 Ways To Keep Your Long-Distance Relationship Feeling Fresh These Days
Kelsey Cadenas/Elite Daily
If Love is Blind prepared us for anything, it's keeping the romance alive in pods. With the recent outbreak of the coronavirus, public health experts and many government officials have encouraged people to practice social distancing, limit unnecessary travel, and stay home. For many long-distance couples, the coronavirus poses quite a challenge.
"Many long-distance couples are forced to spend unexpected time apart and forgo plans they were looking forward to," says Rachel Dack, a licensed counselor and dating coach. "It may feel like a sacrifice or inconvenience to change your lifestyle and plans, but [travel is] not worth the risk."
While long-distance couples are pros at going long stretches without seeing each other, the impact of the coronavirus outbreak is still stressful. "The current situation is leading to a lot of anxiety and uncertainty, which makes it feel very different even if you typically go a week or two without seeing each other," she says. "Long-distance couples are faced with the difficult task of navigating when and how they will see each other again, as well as how to keep their connection intact and their stress levels low."
According to Carmelia Ray, a matchmaker and online dating expert, couples should work to be open about their concerns ranging from when they may see each other next to how this could affect their jobs and finances. Dack adds that extra communication is crucial to maintaining normalcy and easing stress during this time, saying, "Keeping the lines of communication open, not neglecting each other's needs, prioritizing your partner, and keeping up with quality time will all help keep your romance alive."
Even though life might feel strange right now, there are plenty of creative ways to ease the pain of being apart. Beyond staying in touch through texts, calls, and video chat dates, here are some ideas for bonding with your love — even when you're miles apart.