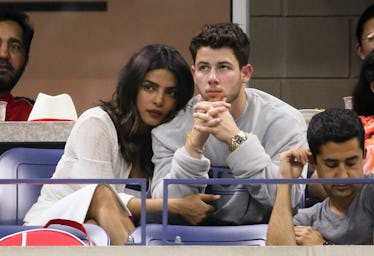 Priyanka Chopra's Thanksgiving Instagram About Nick Jonas Will Make You Swoon
For many a millennial, Thanksgiving is a time to sleep in your childhood bed (haunted by the ghosts of awkward sex with your high school partner) and buy Madewell jeans on super sale that you otherwise can't afford. Far from leggings with holes on the seems and Ugg boots you've had since middle school (my Thanksgiving uniform), for the goddess that is Priyanka Chopra, Thanksgiving is a day for looking amazing and being in love. Cozying up to her boo in the backseat of a car, Priyanka Chopra's Thanksgiving Instagram about Nick Jonas shows the engaged couple reunited in her home of Delhi, India, snuggled up and giving off some serious lovebird energy — take that, Turkey Day.
Posting a "See you later NYC..." Insta on Wednesday, Nov. 21, Nick Jonas left New York to join his fiancée in Delhi. Then, on Thanksgiving Day, Chopra posted a gorgeous photo of her and Jonas together, writing, "Welcome home baby..."
The couple, who recently celebrated both their bachelor and bachelorette parties, is reportedly getting married in India in December. Keeping up with Indian wedding traditions, Nick brought the Jonas Brothers (and the Jonas parents) to India in August to meet Priyanka's family. Indian newspapers are speculating the couple's sangeet, a traditional celebratory night of music and singing during an Indian wedding, could be as soon as Nov 29. Priyanka's wedding registry recently went live on Amazon, of course, because she is a modern lady. Rather, a modern queen, who will soon have a hot hubby and $500 blender.
Apart from being an actress, singer, film producer, philanthropist, and pageant queen, PriPri is 36. That's four years away from 40 and a decade older than her Year 3000 singing boo. This is iconic and gives me so much hope for myself and the rest of my holey legging-wearing pack of other single people spending Thanksgiving in their hometowns, hiding in the pocketbook section of Marshall's to dodge sightings of people from high school. PriPri is a hard working, socially engaged superstar, working with UNICEF and many other charities around India and the rest of the world. And she does it all dressed to the nines and with amazing skin. Same.
The couple has a popping fashion game and Insta game, and even admit to creeping on each other when they're apart. Which means I guess even incredibly successful and wealthy and beautiful people are human too? I wonder if they wait for the Madewell Black Friday sales, too.
I guess now all we can do is eat leftovers wait with baited breath for the weddings pics to drop sometime in December. If the bachelorette party photos tell us anything, I foresee feathers, bling, and lots of red. For now, we can all rest easy, in haute couture or Hanes brand sweats, knowing Nick and Priyanka are reunited and looking amazing — something we all can be thankful for.