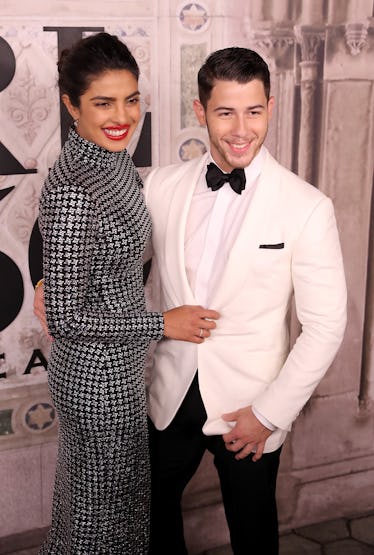 Priyanka Chopra & Nick Jonas Have Reportedly Picked A Wedding Date That's So, So Soon
Rob Kim/Getty Images Entertainment/Getty Images
Nick Jonas and Priyanka Chopra have settled on a wedding date, according to a new report from Us Weekly. The beautiful couple got engaged just a few months ago, back in July 2018, after making their romance red carpet official in May. So, when is Priyanka Chopra and Nick Jonas' wedding date? Well, it's much sooner than you think!
If you were thinking they'd hold off until 2019 to get married, then you may want to rethink your predictions. In an Oct. 24 report from Us Weekly, a source revealed that the happy couple will be exchanging vows in December. Elite Daily reached out to both Jonas and Chopra's teams for comment on the report, but did not hear back by the time of publication.
"The wedding is happening in India in December," Us Weekly's source revealed in the report.
So, it's happening! And it's super exciting for everyone who is rooting for them as a couple.
Jonas and Chopra previously traveled to India in August. Jonas brought his family along to meet and spend time with Chopra's side of the family. At the time, a source close to the situation told Us Weekly that the meeting of families was tradition and that Chopra was set on having an Indian wedding.
"It's a tradition to go and meet the family before the wedding," the source said, later adding that Chopra, "wants an Indian wedding." They also said that "Nick is super supportive of her and he's thrilled."
So, it looks like that insider was right on the money and Chopra will be getting her wedding wishes fulfilled.
Chopra recently shared a photo of herself and her husband-to-be on Instagram. Check out the sweet photo below:
Jonas also shared a photo of himself and Chopra, proving that he's as in love with her as she is with him:
So sweet! And they look great together in both photos, as always!
In terms of wedding details, an insider source revealed to Us Weekly back in September 2018 that Jonas and Chopra were planning a ceremony that blended their cultures together.
"They really want to blend wedding traditions from both of their cultures that are important to them," the source explained. "Priyanka is having a really good time planning the wedding because it's a mix of Indian and American styles and customs, which she knows so much about."
At the time, the source also talked about what a great match Jonas and Chopra are for each other. "When Priyanka met Nick, she was so taken by him. She says she loves the way he looks at her, the way he smiles and that he listens so well. They really are a great match," the source said.
So, even though Jonas and Chopra have only been together a few months, they're definitely a match made in heaven, as they say. All in all, though, it seems like Jonas and Chopra truly do have everything planned out which is wonderful. I'm sure the wedding will be beautiful. Hopefully Jonas and Chopra will give their fans a glimpse of what unfolds when the big day finally arrives!