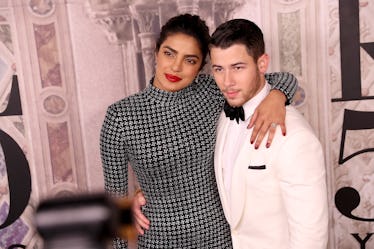 Nick Jonas Just Admitted To Instagram Stalking Priyanka Chopra, So Welcome To The Club
Rob Kim/Getty Images Entertainment/Getty Images
Nick Jonas is just as obsessed with his wife-to-be Priyanka Chopra as everyone else is! And he proved it with a comment on one of Chopra's Instagram posts. After Chopra posted some photos from her weekend bachelorette party, Jonas decided he needed to let her know just how beautiful she looked. And he also made it known that he stalks her Instagram quite frequently. Nick Jonas' comments about Instagram stalking Priyanka Chopra prove that it's not just fans who frequent her Instagram account!
"I am fully insta stalking you…. you are so beautiful," Jonas wrote on one of Chopra's photos, according to Instagram account @commentsbycelebs.
In the photo, Chopra is wearing a beautiful Georges Chakra dress with feather detailing. Parts of her silhouette are illuminated by a lamp in the background, making her look pretty darn angelic. And that, apparently, prompted Jonas to comment on his lady love's photo with those sweet words you just read above.
This isn't the first time Jonas and Chopra have shown each other love on social media. They actually do it quite regularly and are very open about how much the other means to them. For example, back in August, when the two announced their engagement, Jonas shared a sweet photo along with some equally sweet words about his soon-to-be wife. Here's the photo Jonas shared:
And in the caption, Jonas wrote, "Future Mrs. Jonas. My heart. My love."
Then on Sept. 16, Chopra posted a photo of her and Jonas sharing an intimate moment on Jonas' birthday. Here's what she posted:
Needless to say, Jonas and Chopra are such sweethearts that they share their love for one another on social media all the time. And it's beyond adorable! I'm so glad these two are getting married because they're made for each other.
Speaking of marriage, it was recently revealed when and where Jonas and Chopra will exchange vows. In a Nov. 11 report, a source for The Sun gave all the juicy details about the wedding, including the time, venue, and everything leading up to the special day.
"There are several events leading up to the wedding, including a Christian ceremony, which will all be in India," the source explained. "They will culminate with the Indian wedding on December 1 at the palace, where they will tie the knot under a traditional four-pillar structure, a mandap. There is a mehndi event planned, where they will be decorated with henna body art, among other traditional Hindi pre-wedding events."
Sounds amazing, right? The source also revealed what Jonas and Chopra plan to wear during their Christian and Indian ceremonies.
"Nick will wear ivory and Priyanka will be in red, while the bridesmaids will wear Ralph Lauren outfits for the Christian wedding, because the couple wore the brand at their first public appearance together at the Met Gala last year," the source told The Sun. "The festivities begin in the last week of November. They're relishing every minute."
So, they've got everything ready to go, it seems. I'm sure it's going to be an amazing, Instagram-worthy wedding!