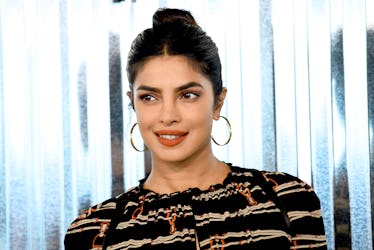 Priyanka Chopra's Second Wedding Dress From Her Hindu Ceremony Is The Most Stunning Sight You'll See All Day
Jared Siskin/Getty Images Entertainment/Getty Images
As if her first dress wasn't beautiful enough, Priyanka Chopra's second wedding dress has completely wow-ed us in every way. From the intricate embellishment, to the exquisite shade, Priyanka Chopra's second wedding dress is everything, yet nothing, we could have expected from the beautiful bride, aka the new Mrs. Jonas.
While we had no idea what exactly Chopra would be wearing down the aisle, we had the utmost faith that it would be an incredible gown — so when she blessed us with not one, but two breathtaking ensembles for her two ceremonies, it was almost too much beauty. She wore a stunning white Ralph Lauren wedding gown during the traditional Christian service on Saturday, which was officiated by Jonas's father, complete with a show-stopping 75-foot-long veil, because NBD. Today, though, we're here to sing the praises of her second look, which she donned for the traditional Hindu ceremony, which took place on Sunday.
For this ceremony, both Chopra and her hubby-to-be wore traditional Indian attire by Indian designer Sabyasachi. You can see the photo of Priyanka's stunning dress here, but be warned: it's almost too gorgeous to behold. According to Sabyasachi, who shared details regarding the dress in an Instagram post of the couple, the blood red lehenga was custom made by 110 embroiderers from Calcutta, India, and the whole process took 3720 hours to complete.
We've always felt like red was Chopra's power color, so we're not surprised she chose the vibrant hue for her wedding day attire:
Like, we know she looks good in everything, but for real, the girl was born to wear red:
According to Sabyasachi, the embroidery on her gown featured "hand-cut organza flowers, French knots in silk floss, delicater Siam-red crystals and layer upon layer of threadwork embroidery." As for her jewelry, Sabyasachi notes that her accessories were equally as intricate and beautiful. "As an ode to the resplendence of Mughal jewellery," he writes, "her wedding jewellery was crafted with uncut diamonds, emeralds, and Japanese cultured pearls in 22 karat gold and had delicate tiny stars in uncut diamonds to give a sense of whimsy to an important traditional piece."
Who would've thought the red looks worn by her bridesmaids during her bachelorette party would be a subtle hint at her own Indian wedding gown?
Even at her bachelorette bash, Chopra wore white, so we were sure she'd stick with the Western tradition of bridal white for both of her ceremonies. We should've known this fashionista would want a pop of color to shake things up! And is it possible that Jonas foreshadowed it all way back in 2008, when the lyrics "high heels, red dress," became an iconic line in their hit song "Burnin' Up?"
Nick and Priyanka are no strangers to teaming up in statement attire — Exhibit A, their Ralph Lauren looks at the 2017 Met Gala:
TBH, I've never seen this pair look less than perfect, and their wedding weekend was no exception:
There's no denying that Chopra looked stunning in both her wedding looks, but there's something to be said about how special her red Sabyasachi number truly was. We imagine it's difficult to stand out in a room full of Jonas Brothers, but Chopra makes it look easy. Cheers to the happy, fashionable couple!