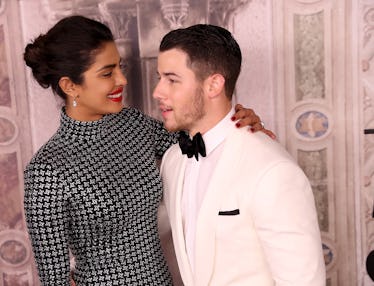 Twitter Is Raving About Nick Jonas & Priyanka Chopra's Traditional Hindu Ceremony
Rob Kim/Getty Images Entertainment/Getty Images
It's finally happened, everyone! Nick Jonas and Priyanka Chopra have tied the knot in a gorgeous traditional Indian wedding ceremony and their fans are going wild over the whole thing! While everyone has known that the wedding was coming up this weekend, it still feels like it snuck up on us. And now it's here and there's so much excitement to go around. Actually, people on Twitter can't stop talking about it. Just wait until you see all the tweets about Priyanka Chopra and Nick Jonas' Indian wedding ceremony.
The two stars tied the knot in a traditional Hindu ceremony on Dec. 2 in India, which is where Chopra was born. At the wedding, Chopra wore a red sari and Jonas wore a traditional turban and Indian outfit, per People. The ceremony took place at the Umaid Bhawan Palace in Jodhpur, Rajasthan.
All of Jonas' and Chopra's family was there, too, so the ceremony was definitely a family affair. According to reports, wedding festivities drew in famous guests from around the world including the two other Jonas brothers, Jack McBrayer, Elizabeth Chambers Hammer, and more.
This wasn't the first time those closest to Jonas and Chopra gathered in celebration of the couple, though. Back in August 2018, Jonas and Chopra's respective families gathered in India to get to know each other. At the time, a source close to the couple told Us Weekly that the meeting was part of a longstanding tradition and that Chopra wanted to have an Indian wedding.
"It's a tradition to go and meet the family before the wedding," the source said and then added that Chopra, "wants an Indian wedding." They also said that "Nick is super supportive of her and he's thrilled."
Now that the wedding has finally happened, it looks like Chopra got her wish! And fans are totally in love with everything about this wedding. Here's what fans are saying on Twitter about the nuptials right now:
By the looks of things, Jonas and Chopra went all out for this wedding. Not that fans should have expected any less because a source for Us Weekly revealed in September 2018 that they'd be blending their cultures and their lives as much as possible with this celebration.
"They really want to blend wedding traditions from both of their cultures that are important to them," the source explained. "Priyanka is having a really good time planning the wedding because it's a mix of Indian and American styles and customs, which she knows so much about."
So sweet! Jonas and Chopra started dating back in May 2018 and swiftly got engaged in July 2018. So, now that they're married, what's next?
Well, according to an Oct. 1 report from Us Weekly, Jonas and Chopra want to have kids relatively soon. In that report, a source close to Jonas and Chopra revealed that the couple is hoping to start having kids right after the wedding.
"Nick and Priyanka can't wait to get married," the source told Us Weekly. "They have amazing chemistry and can't wait to have kids."
So, I guess that's next! How exciting! Whether they start having cute little babies right away or wait a little while, they still have to get through their Christian wedding ceremony tomorrow, so there's much to celebrate. Congratulations, Nick and Priyanka!