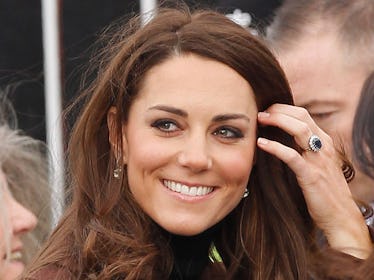 Diana's Famous Engagement Ring Almost Went To Meghan Instead Of Kate & Here's Why
Christopher Furlong/Getty Images News/Getty Images
Ever since Prince William and Kate Middleton got engaged in 2010, she's worn his late mother's sapphire and diamond engagement ring. It's a gorgeous tribute to the Diana, Princess of Wales, and a stunning piece of jewelry. It's hard to imagine Kate wearing anything else, but according to a report, it could have gone to Meghan Markle instead. Prince Harry gave Princess Diana's engagement ring to Prince William so that he could propose to Kate — and the full story is incredibly touching.
In the 2017 Amazon Prime documentary The Diana Story, Diana's former butler Paul Burrell explained how the ring passed through the family. After her death in 1997, Burrell reportedly told each prince to pick out a piece from Diana's personal collection of possessions. William reportedly chose the Cartier watch that his mother had received from her father on her 21st birthday.
Burrell recounts that Harry reportedly said, "I remember when I held mummy's hand when I was a small boy and that ring always hurt me because it was so big."
Burrell asked if he meant her engagement ring, and the prince reportedly said yes. So Burrell gave it to him.
Years later, when William told Harry he wanted to propose to Kate, Burrell reports that Harry said, "Wouldn't it be fitting if she had mummy's ring? ... Then one day that ring will be sat on the throne of England."
According to Vogue, the exchange went a little differently: They report a rumor that the brothers decided whoever was ready to get engaged first would propose with their mother's ring.
Elite Daily has reached out to the princes' reps for comment.
"Harry gave up his precious treasure," Burrell said in the documentary. "His one thing he kept from his mother, he gave to his brother... That's selfless, kind, and exactly who Diana was."
The famous ring is a 12-carat oval Ceylon sapphire surrounded by 14 solitaire diamonds and set in 18-karat white gold, Good Housekeeping reports. The magazine notes that Garrard, the crown jeweler, was inspired by a sapphire and diamond brooch that Prince Albert gave to Queen Victoria as a wedding present in 1840 that Queen Elizabeth II inherited and has worn often.
Despite its popularity now, it was reportedly a source of controversy at the time. According to Vogue, in 1981, Prince Charles presented Diana with a selection of Garrard rings, and she chose the sapphire herself. But the ring happened to be a stock item, which meant it was available to the general public. Some critics reportedly felt that she should have chosen a custom piece. Express reports the ring cost $37,000.
Though the sapphire ring now sits on Kate's finger, Meghan wears jewelry from Diana's collection, as well. Her engagement ring features two of Diana's diamonds alongside a new center stone.
"The little diamonds on either side are from my mother's jewelry collection to make sure that she's with us on this crazy journey together," Harry told the BBC after announcing their engagement.
Meghan also wore Diana's aquamarine cocktail ring to her wedding reception in May. Other heirloom pieces she's worn have included butterfly earrings and a gold statement bracelet.
Kate and Meghan's use of Diana's jewelry is a loving tribute to their late mother-in-law's memory and a beautiful way to carry on her legacy.