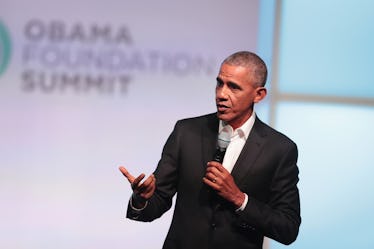 Obama Said Men In Politics Are "Getting On His Nerves" & I've Never Related More
Scott Olson/Getty Images News/Getty Images
Just days after President Donald Trump sparked controversy with his July 16 assertion that he had "no reason" to believe Russia meddled in the election (a statement he walked back a day later), President Barack's Obama's empowering call for action is giving me hope. In a Wednesday, July 18 speech made at a town hall in Johannesburg, South Africa, Obama called for women to step up to the political plate and take over, because men have been "getting on his nerves." Honestly, President Obama's quote about women getting involved in politics is what everyone's thinking at this point, and I'm so here for it.
A day after serving all the truths in a highly-publicized speech on July 17, President Obama headed back to the stage to address 200 young leaders at a Johannesburg town hall, and his words are the female empowerment anthem I've been needing all year. While the speech was aimed at a group of South African locals, his statement about how more women need to step up to leadership positions hits so close to home.
"Women in particular, by the way, I want you to get more involved," he said. "Because men have been getting on my nerves lately."
LOL, same.
"Everyday I read the newspaper and just think like 'Brothers, what's wrong with you guys? What's wrong with us?" Obama continued. "We're violent, we're bullying. Just not handling our business."
He went on to say that empowering more women in Africa to get involved in politics "is going to lead to some better policies."
As it pertains to how students can fix the wrongs they see, Obama said, "I think there are a lot of different ways in which you can effectuate change. The one thing you can't do is pretend that politics doesn't matter."
ICYMI, President Obama has been on fire the past couple of days. One day earlier, on July 17, President Obama touched on the importance of civil rights, a free press, and democracy as he delivered a televised speech in Johannesburg to honor South African President Nelson Mandela, who tirelessly worked to end apartheid. All eyes were on President Obama, who gave the empowering oration just days after President Trump expressed his doubts over Russia's alleged election interference, despite his own intelligence team's findings. After significant backlash spurred POTUS to later backtrack (well, sort of) on his original statement, everyone tuned in to President Obama's speech to hear his take on the whole situation and to hopefully hear him school his successor.
While President Obama briefly mentioned how women and girls "continue to be blocked from positions of power and authority" as well as the inequalities they face during his July 17 speech, how great would it have been if he'd followed up that statement by pushing even more for more women to get involved in politics on a global scale — and for men to support them in doing so, or at least not work to block them from doing so?
Considering that 28-year-old Alexandria Ocasio-Cortez won a primary in New York in a major step to potentially become the youngest woman ever elected to the House less than a month ago and countless women around the country marched in the Women's Marches on Jan. 21, 2017, it looks like my fellow ladies are already stepping up to the task. Now that there's so much at stake with changing reproductive rights laws and the like, I don't think that President Obama's comment could come at a better time.
President Obama's speech might not change the fact that 2018 is a very confusing time and I'm still struggling to wrap my head around it all, but kudos to all the women out there who are fighting to let their voices be heard.