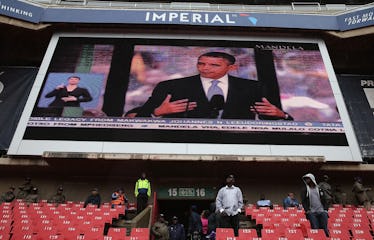 Obama Spoke About Politics At A Nelson Mandela Event & It's So Relevant Right Now
Justin Sullivan/Getty Images News/Getty Images
On Tuesday, July 17, President Barack Obama was in South Africa to give a speech in honor of the late Nelson Mandela. The speech came just hours after his successor, President Donald Trump, gave an earth-shaking press conference with Russian President Vladimir Putin, casting doubt on the fate of the country's direction under the current administration. In light of the political turmoil back home, it was hard to miss how relevant Obama's Nelson Mandela speech was, even coming from across an ocean.
Keep believing. Keep marching. Keep building. Keep raising your voice. Every generation has the opportunity to remake the world.
Obama, in his first trip to the African continent since leaving office, spoke at the 16th Nelson Mandela Annual Lecture, an event commemorating the South African president and his legacy. Mandela, the first black president and leader in the movement to end apartheid in the African nation, died in 2013; this week would have been his 100th birthday.
Speaking at a stadium before an audience of about 14,000, Obama spoke broadly about civil rights, justice, politics, and democracy, making points that stood in stark contrast to those made by his successor. Paying homage to the event's namesake, he said,
I believe in Nelson Mandela's vision. I believe in a vision shared by Gandhi and King and Abraham Lincoln. I believe in a vision built on the premise that all people are created equal and they're endowed by our creator with certain inalienable rights.
Obama went on to speak about what lessons should be drawn from the past in such a politically fraught time, saying,
History shows the lasting hold of greed and the desire to dominate others in the minds of men — especially men. History shows how easily people can be convinced to turn on those who look different, or worship God in a different way.
Obama also spoke about the importance of democracy, particularly as it pertains to the right of a press. He said,
The free press is under attack. Censorship and state control of media is on the rise. Social media, once seen as a mechanism to promote knowledge & understanding and solidarity has proved to be just as effective promoting hatred and paranoia and propaganda and conspiracy theories.
The former U.S. president also stressed the need for deference to objective truth. In order to work together to achieve their goals, leaders, he argued, must begin with evidence. He said,
We have to actually believe in an objective reality ... You have to believe in facts. Without facts, there's no basis for cooperation. If I say this is a podium and you say this is an elephant, it's going to be hard for us to cooperate.
Obama cited climate change and policies surrounding it as an example of where cooperation could not work without acknowledging objective reality. Whereas not agreeing with the terms of the Paris Climate Accord still meant there was room to work together to bridge differences of opinion, a refusal to believe in the science-backed reality of climate change would make any sort of cooperation on that front impossible, he explained.
Without actually naming him in his speech, Obama on Tuesday made obvious references to Trump. The contrast between the two Americans was made clear in by this speech. While Obama stated that "racial discrimination still exists in both the United States and South Africa," Trump last year got backlash in his "both sides" defense of white nationalist protesters.
In classic Obama style, though, he didn't leave without pushing to restore faith in his audience.
"I believe we have no choice but to move forward," Obama said, "that those of us who believe in democracy and civil rights and a common humanity have a better story to tell."
In his concluding section, Obama spoke directly to young people and the potential power they have.
"My message to you is simple: Keep believing. Keep marching. Keep building. Keep raising your voice. Every generation has the opportunity to remake the world," he said, citing the Mandela quote that "Young people are capable, when aroused, of bringing down the towers of oppression and raising the banners of freedom." Obama continued,
Now's a good time to be aroused. Now's a good time to be fired up, and for those of us who care about the legacy we honor here today, about equality and dignity and democracy and solidarity and kindness, those of us who remain young at heart, if not in body, we have an obligation to help our youth succeed.
To finish his speech, Obama said,
Love comes more naturally to the human heart. Let's remember that truth. Let's see it as our North Star. Let's be joyful in our struggle to make that truth manifest here on earth, so that 100 years from now, future generations will look back and say, 'They kept the march going. That's why we live under new banners of freedom.'
Here here.