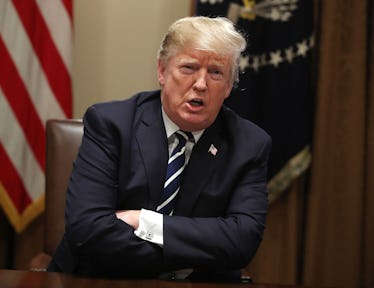 Trump Said He Has "Full Faith" In U.S. Intelligence, & The Lights Actually Flickered
Mark Wilson/Getty Images News/Getty Images
There's no shortage of weird moments in President Donald Trump's administration. But when he implied on July 16 that he believed Russian President Vladimir Putin over his own U.S. intelligence community on the issue of Russian meddling in the 2016 election, that might have been one of the weirdest. So on July 17, just one day after making his initial remarks, Trump backtracked on those remarks. Cameras caught a hilariously coincidental moment during the president's statement at the White House, and this video of lights flickering during Trump's U.S. intelligence statement is just too good.
Trump faced the music back in the United States after he essentially implied that he sides with Putin on the issue of Russian meddling in the 2016 election. On July 16 in Helsinki during a joint press conference, Putin denied accusations that his government meddled with the result of the 2016 elections at any capacity. When a reporter asked Trump whether or not he believes the Russian president's claims, Trump effectively said that he believed Putin's claims, despite the fact that the U.S. intelligence community is in agreement that Russia did in fact meddle. "President Putin just said it's not Russia," Trump stated, "I don't see any reason why it would be."
The backlash following Trump's remarks was so severe that he attempted to walk back his comments on the topic of Russian meddling in the presidential election. During a press conference at the White House on July 17, Trump stated that he has "full confidence" in the U.S. intelligence community regarding their findings on the issue of Russian interference in the 2016 election.
But right in the middle of Trump essentially taking back what he implied in Helsinki, the lights in the White House started flickering and completely went dark. This is most likely just a coincidence, but man is it a (literally) shady one.
Trump's July 16 comment in Helsinki came after the July 13 indictment of 12 Russian nationals on charges that included hacking into the emails of Democratic National Committee (DNC) members in order to interfere in the 2016 presidential election. The indictment is a part of special counsel Robert Mueller's ongoing investigation into Russian meddling and possible collusion between Russia and the Trump campaign. By saying that he doesn't "see any reason" why Russia would be involved, Trump effectively dismissed the U.S. intelligence community and decided to side with Putin instead.
Following the press conference, politicians from both sides of the aisle back in the U.S. severely criticized Trump for what he had implied. Even some of Trump's staunchest supporters vocally expressed their abhorrence for Trump's performance in Helsinki.
Former Speaker of the House Newt Gingrich, one of Trump's most dedicated supporters, tweeted about the president's major snafu. "President Trump must clarify his statements in Helsinki on our intelligence system and Putin," Gingrich wrote in the tweet. "It is the most serious mistake of his presidency and must be corrected—-immediately.
After the president and first lady Melania Trump returned to Washington D.C. in the early hours of July 17, his cabinet must have advised him to backtrack on the comments he made during the July 16 summit, because that's exactly what he did.
However, it might be too late for Trump to backtrack here, as many politicians fear that the damage that he's done might be irreversible. And that sentiment is what makes the coincidental lights-off moment as Trump tried to fix his mistake the perfect ironic (yet poignant) moment.