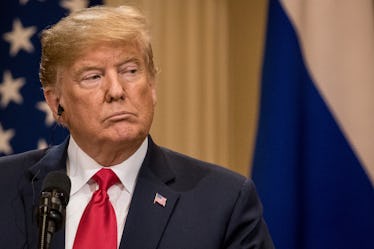 Donald Trump Is Trying To Backtrack About Russian Meddling After Everyone Got Mad
Chris McGrath/Getty Images News/Getty Images
Well, well, well. After stirring up controversy with his takes on Russia's alleged election interference earlier this week, the president is rolling back on his comments. But Donald Trump's latest comments about Russian meddling will really make your head spin, because they're basically a total turnaround from what he's said before.
Trump had initially raised eyebrows when the topic of Russia's interference in the 2016 presidential election was brought up during a joint news conference with Russian President Vladimir Putin on Monday, July 16. Trump appeared to publicly side with Putin (who has publicly denied involvement in the election), refusing to denounce Moscow's interference in the election — despite the U.S. intelligence community's consensus that they did, in fact, interfere. "President Putin just said it's not Russia," Trump said. "I don't see any reason why it would be."
On Tuesday, July 17, however, Trump backpedaled on his comments. According to BuzzFeed, he said he meant to say he didn't see a reason why Russia "wouldn't" have interfered in the election.
"In a key sentence in my remarks, I said the word would instead of wouldn't," he explained. "The sentence should have been, I don't see any reason why it wouldn't be Russia."
Trump also said he accepts the intelligence agencies' conclusion about Russia's meddling in the election... before muddling his retraction by saying it still "could be other people" who interfered in the race. He said:
I have felt very strongly that while Russia's actions had no impact at all on the outcome of the election, let me be totally clear in saying that — and I've said this many times, I accept our intelligence community's conclusion that Russia's meddling in the 2016 election took place. Could be other people also. There's a lot of people out there.
Let's break this down. So the intelligence agencies' conclusion found that Russia actually did meddle in the election, and Trump accepts that, while also believing that some other figure or country might actually be responsible for the interference.
I'm sorry, but I'm just not following.
The walk-back came after heavy criticism of his remarks in the conference on July 16.
That same day, Democratic Sen. Mark Warner of Virginia slammed Trump to CBS, telling the outlet that his actions during the meeting were "outrageous."
Arizona Republican Sen. John McCain didn't hold back either, saying via statement, "Today's press conference in Helsinki was one of the most disgraceful performances by an American president in memory."
Former CIA director John O. Brennan also criticized Trump, calling his siding with Putin "nothing short of treasonous. He also said the president is "wholly in the pocket of Putin."
Dictionary.com even appeared to shade the president on Twitter for the remarks, tweeting the definitions of both "patriot" and "traitor." The site wrote:
Patriot: A person who loves, supports, and defends his or her country and its interests with devotion.
Traitor: A person who commits treason by betraying his or her country.
As a result of the backlash, Trump took to Twitter to offer more insight on the press conference, but his comments only made things more confusing, TBH, He wrote:
As I said today and many times before, 'I have GREAT confidence in MY intelligence people.' However, I also recognize that in order to build a brighter future, we cannot exclusively focus on the past – as the world's two largest nuclear powers, we must get along! #HELSINKI2018
OK then.
Given all this, Trump might just wanna leave this topic where it is, because his attempts at providing clarity only make things even murkier.