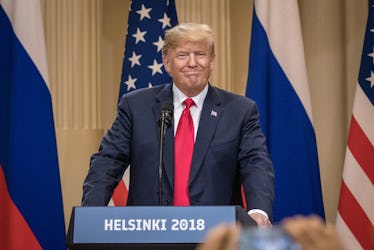 Dictionary.com Trolled Trump's Meeting With Putin On Twitter & It's Perfect Shade
Chris McGrath/Getty Images News/Getty Images
When President Donald Trump and Russian President Vladimir Putin met on Monday, July 16, the world didn't know what to expect. But for those hoping to see the issue of Russian meddling in the 2016 election addressed, I'm sorry to disappoint. Instead, the world was treated to an uncomfortable lovefest between the two leaders. It was odd, at best, but thankfully Dictionary.com's tweet after Trump and Putin's Helsinki meeting threw some much needed shade on the whole situation. It's perfect.
After a closed-door meeting between the two presidents on Monday, Putin and Trump held a joint press conference to answer questions and discuss the goings on of their prior meeting. During the conference, Trump said a number of things in support of Russia, including that the U.S. was also to blame for its poor relationship with Russia, and once again took the opportunity to go after special counsel Robert Mueller's investigation into possible Russian meddling in the 2016 election, according to Mashable. Trump also came to Putin's defense and implied that he believes Putin's claim that Russia did not meddle in the 2016 elections, despite the U.S. intelligence community's consensus that, yeah it did.
In fact, Trump said so many positive things about Russia that #TreasonSummit was even trending on Twitter during the conference. It's no surprise, therefore, that someone felt the need to step up and throw some shade about the whole thing — and who better than the dictionary? Intellectual drama is the best drama, y'all.
On Monday, during the press conference, the Dictionary.com Twitter handle tweeted the definitions of both "patriot" and "traitor." They wrote,
Patriot: A person who loves, supports, and defends his or her country and its interests with devotion.
Traitor: A person who commits treason by betraying his or her country.
Subtweet much? I see what you did there, Dictionary.com.
Of course, it's debatable whether the tweet was aimed at Trump himself or at the people using the #TreasonSummit hashtag, but either way I'm calling shade.
Putin and Trump's meeting came after an indictment issued July 13 against 12 Russian nationals as part of Mueller's investigation. Charges included allegations of a "sustained effort" to hack into Democrats' emails and computer networks, according to CNN. With those charges looming over the conference, Russian meddling was a hot topic, but Putin denied any meddling. He said,
The Russian state has never interfered and is not going to interfere into internal american affairs, including election processes. Any specific materials, if such things arise, we are ready to analyze together, for instance.
Trump said he didn't "see any reason" to disbelieve Putin's claim, despite what U.S. intelligence has said, according to Los Angeles Times. Trump said,
My people came to me, they said they think it's Russia. I have President Putin. He just said it's not Russia. I will say this, I don't see any reason why it would be.
Judging by those remarks, I think it was only fair that Dictionary.com lent a helping hand. Amidst all the drama, a little bit of... well, more drama. I'll allow it.