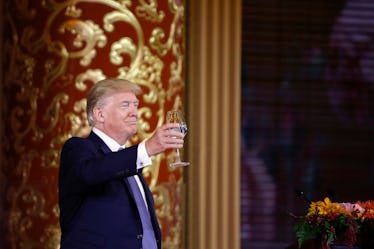 Trump's Super Awkward Handshake In The Philippines Is What We All Needed To See
Pool/Getty Images News/Getty Images
Donald Trump has succeeded in making waves on the Twitterverse while on his tour of Asian countries. And these tweets about Trump fumbling a handshake in the Philippines are just what we needed to start the week. Trump was in the capital city of Manila attending a development summit for Southeast Asian nations on Sunday, Nov. 12 when the latest of his viral handshake videos happened.
During the summit, world leaders stood in a line facing the audience onstage for ceremonial rituals. An emcee prompted the group of dignitaries to smile for a photo, and then proceeded to lead them through a symbolic gesture. "And now for the ASEAN handshake," the emcee said. "Right over left, in one, two, and three."
At first, Trump seemed to ignore the right-over-left thing and went rogue, extending his right arm over to shake the hand of Vietnamese Prime Minister Nguyen Xuan Phuc to his right. While shaking the prime minister's hand with both of his own, Trump realized his error, and, making a face that has spurred its own subcategory of descriptions, finally managed to reach the hand of Philippines President Rodrigo Duterte on his left.
ASEAN, the Association of Southeast Asian Nations, is an international summit for development and unity in the region. The association, which just celebrated its 50-year anniversary, uses a special group handshake that joins together leaders as a show of unity.
Check out Trump trying the handshake here:
The facial expressions throughout the ordeal are just a tad intense and extreme for the situation, no? (If it were me, I'd be trying with everything I had to play it cool and disguise my fumble.) But hey, these photos are worth it.
Trump's brief journey to get the handshake right — complete with signs of struggle — can be summed up by the Washington Post's Ashley Parker: "Nevertheless, he persisted."
As NDTV points out, Trump was not the only world leader who was left momentarily confused by the handshake instructions. If you look at the far left, you'll see that, yep, Russian Prime Minister Dmitry Medvedev was struggling too.
But based on the photo one user tweeted, Trump's predecessor, President Barack Obama, appears to have had a markedly more successful go at the handshake. (We couldn't find any video to confirm that Obama didn't also fumble it, but at least his smiling photo on the left makes him seem pretty confident about it. Apples to apples, it's clear who won the better facial expression on this particular photo opp.)
Obama, too, had his fair share of awkward handshakes (the Three Amigos, anyone?). But his successor has had a mindblowing number of awkward, forcible, and downright bizarre handshakes with foreign dignitaries and world leaders in his 10 months in office.
In February, Canadian Prime Minister Justin Trudeau didn't look too enthusiastic about shaking the president's hand. And there was the marathon hand-holding between Trump and Japanese Prime Minister Shinzo Abe, which clocked in around 19 seconds in length. (Poor Abe has endured numerous of these painful greetings.) But that's nothing to the 30-second grip he had on French President Emmanuel Macron on Bastille Day. Macron's wife has been on the receiving end of some uncomfortable pleasantries, too.
In fact, this is the second time in just a few days a Trump handshake has made headlines. Though it wasn't one of his more awkward encounters, a video of Trump shaking hands with Putin in Vietnam sparked debate.
Trump's Philippines appearance marks the last leg of his Asian tour, ending Monday, and he is set to return to the White House after that. We can only hope this handshake fumble is the worst we hear about for the rest of his time abroad.