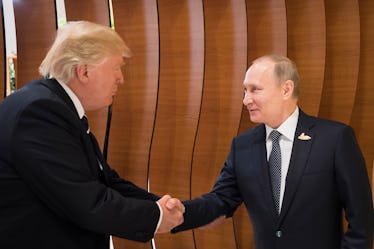 Trump & Putin Shook Hands During A Group Photo, So Time To Furiously Analyze The Encounter
Handout/Getty Images News/Getty Images
Though President Donald Trump is now on the Vietnam leg of his Asia tour, Russia's leader managed to steal the spotlight. This video of Trump and Vladimir Putin shaking hands has everyone wondering if there's more to come. The two world leaders met while lining up for a group photo at the Asia-Pacific Economic Cooperation (APEC) summit Friday, Nov. 10.
There was much anticipation leading up to the meeting. Trump and Putin, shown in the video on the lower left wearing blue shirts, share a longer-than-normal handshake in one of Trump's customary styles, smiling enthusiastically.
A close-up photo shows Trump and Putin nearly fully facing each other, with Trump opting for a two-arm greeting, appearing to put one arm on Putin's back. Social media users responded to their handshake with mixed reactions.
"[E]ven in this short encounter..chemistry is visible.., sad that evil forces are preventing them from working on the world peace," one user tweeted in reply to the video.
Some on Twitter speculated that the handshake served as a stand-in for a formal meeting between the two leaders. Others noted how Trump's handshake style with Putin seemed to differ from the sawing motion he's often employed when meeting other officials.
Per the White House, there are no plans for Trump and Putin to hold any meetings together. "Regarding a Putin meeting, there was never a meeting confirmed, and there will not be one that takes place due to scheduling conflicts on both sides," White House Press Secretary Sarah Huckabee Sanders told reporters. "There is no formal meeting or anything scheduled for them." But she added it was possible, as they'd be in the same place at the same time, that the two may bump into each other.
Sanders' statement appears to fly in the face of what Russian officials have said. CNN reports that Russian spokesman Dmitry Peskov said an encounter would take place "one way or another," and that such a meeting "will take place on the sidelines."
And the question of whether the leaders will in fact meet during the APEC conference is causing speculation on Twitter. "No formal Trump Putin meeting @PressSec says. Only that they may 'bump' into each other," CNN White House correspondent Jim Acosta tweeted.
Throughout the week leading up to their meeting, reports varied about whether Trump and Putin would have any sort of contact beyond their photo opp.
The Moscow Times seemed pleased that the two leaders had met.
Despite White House statements on the matter, the question has evolved into a will-they-won't-they situation with no clear answers. Per NPR's Moscow correspondent Lucian Kim, a Russian official claimed "Trump expressed the wish to meet" with Putin.
Trump often tends to go for the "yanking" style handshake, as it's been called, when meeting world leaders. But Friday's greeting with Putin seemed to be a different animal entirely. This latest one looked to be similar in style to the one Trump and Putin had back when they met for the first time in July at the G20 Summit in Hamburg, Germany. Their handshake back in June was analyzed by body language experts who said Trump's expression was one of deep respect, admiration, and servility.
Friday's handshake was also colored with additional drama after developments to the FBI's Russia investigation in late October. Two of Trump's campaign aides, who were found to have ties to Russia, were indicted on charges relating to their foreign lobbying, and a third reached a plea bargain after admitting to lying to the FBI.
While it remains unclear whether Putin and Trump will be seeing each other again during their trip in Vietnam, and in what capacity, the world leaders have at least hit their daily quota of chatter-filled waves on the Internet.