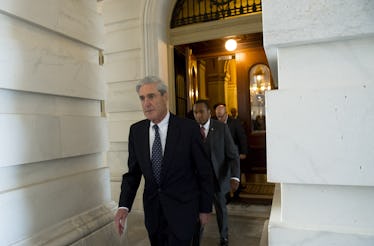 This Is What The Trump-Russia Investigation Has So Far
AFP Contributor/AFP/Getty Images
The news surrounding the investigations into President Donald Trump's campaign on Monday, Oct. 30 was enough to send a country reeling with questions. After two of Trump's campaign staffers were indicted and a third had reached a plea bargain, everyone is understandably wondering what's next. So, what does Mueller have so far? The Trump Russia investigation is heating up, and here's what Mueller's power moves might mean moving forward.
Mueller isn't messing around.
Despite Trump's nonchalance about Mueller's charges on social media, reports have suggested that the White House was pretty panicked after Monday's news. The week started off with a bang as Paul Manafort — Trump's former campaign chair — and his associate Rick Gates were indicted on 12 counts, including conspiracy against the U.S. and money laundering. And files were unsealed revealing that a third campaign aide, George Papadopoulos, had pleaded guilty to lying to the FBI about his connections with Russian nationals while working for Trump.
The indictments against Manafort and Gates came in the form of a dense, 31-page document detailing the charges against them. The velocity and thoroughness with which Mueller handed down these indictments are telling. Their charges show he's willing to use the full range of his playbook to pursue information and punish wrongdoing. Lots of experts, including former U.S. attorney for the Southern District of New York Preet Bharara, have weighed in on Mueller's approach. Of note is the fact that Mueller is playing the FARA card — referring to the Foreign Agents Registration Act, a decades-old law that's seldom been used in pursuing federal cases. Mueller charged both Manafort and Gates with making false statements regarding FARA in the indictment, which suggests that the special counsel is not confined to . Instead, he's doing things his way (and it seems to be working).
Senator Chuck Grassley (R-IA) was impressed by Mueller's attention to the oft-overlooked FARA violation. Grassley, quoted in NPR, said, "It's good to see the Justice Department taking seriously its responsibility to enforce [FARA] ... I've been raising concerns about lackluster enforcement of this foreign influence disclosure law for years now, regardless of administration or political party."
Manafort and Gates might be conduits for more information.
Papadopoulos appears to be cooperating with the special counsel on the Russia investigation, per his plea agreement filed on Oct. 5, and solidified by the punishment recommended in Monday's court appearance, which, according to Wired, was much lighter than he would have otherwise faced had he not pleaded guilty. The fact that one person has appeared to make a deal with Mueller should be enough to give Trump — and anyone involved even tangentially in the investigation — reason to worry.
Meanwhile, the sentences Manafort and Gates could face as a result of Monday's indictments are no laughing matter. Of the 12 counts they were charged on, money laundering alone carries a sentence of up to 20 years of jail time.
Manafort's and Gates' indictment amount to, as former federal prosecutor Peter Zeidenberg told CBS, "Extremely strong, very serious charges, that put a tremendous amount of pressure on Manafort and Gates to plead and cooperate."
Trump's lawyers seem cool as cucumbers, as does his press secretary Sarah Huckabee Sanders, who in a press briefing Monday said, "Today's announcement has nothing to do with the president, has nothing to do with the president's campaign or campaign activity." But Trump has little reason to expect loyalty from a crew that, so far, has indicated not only criminal histories, but a willingness to make deals. Some have argued that Manafort doesn't have much to offer Mueller. But Trump isn't exactly in bed with the most trustworthy people, and it's not beyond the realm of possibility that Manafort and Gates will give up any information they have — bombshell or not — to avoid spending decades in prison.
Mueller has already bagged one cat willing to talk to save its own skin — Papadopoulos, who reached a plea deal on Oct. 5. Monday's other two indictments could mean Mueller has two more cats whose sealed-lip resolve might buckle under the threat of a jail time. As Garrett Graff writes in Wired: Manafort and Gates have a dozen new reasons to give Mueller what he wants.
There's been some concern that the president might try to interfere with the investigation.
Democratic leaders reacted to the indictments with worry that Trump might try to remove Mueller from his duties, as he's suggested he could do previously. In an interview with the New York Times from July 19, Trump set a red line that, if Mueller crossed, would be grounds for dismissing him. The red line in question was if Mueller began probing Trump's finances, though Trump never explicitly confirmed he would outright fire him if that happened.
Senate Minority Leader Chuck Schumer (D-NY) warned the president against any such actions, saying that "the president must not, under any circumstances, interfere with the special counsel's work in any way. If he does so, Congress must respond swiftly, unequivocally, and in a bipartisan way to ensure that the investigation continues."
Trump's lawyer Jaw Sekulow told CNN that he hasn't discussed with the president the possibility of issuing pardons for Manafort or Gates. It's unlikely, Republicans and people close to him say, that Trump would put himself at political jeopardy by impeding or undermining the investigation. And any action by Trump to steer the investigation would amount to admitting he is worried about the implications for his own legal vulnerability.
And let's be honest: If Trump tries to step in Mueller's way, he's picking a fight with a very formidable enemy.