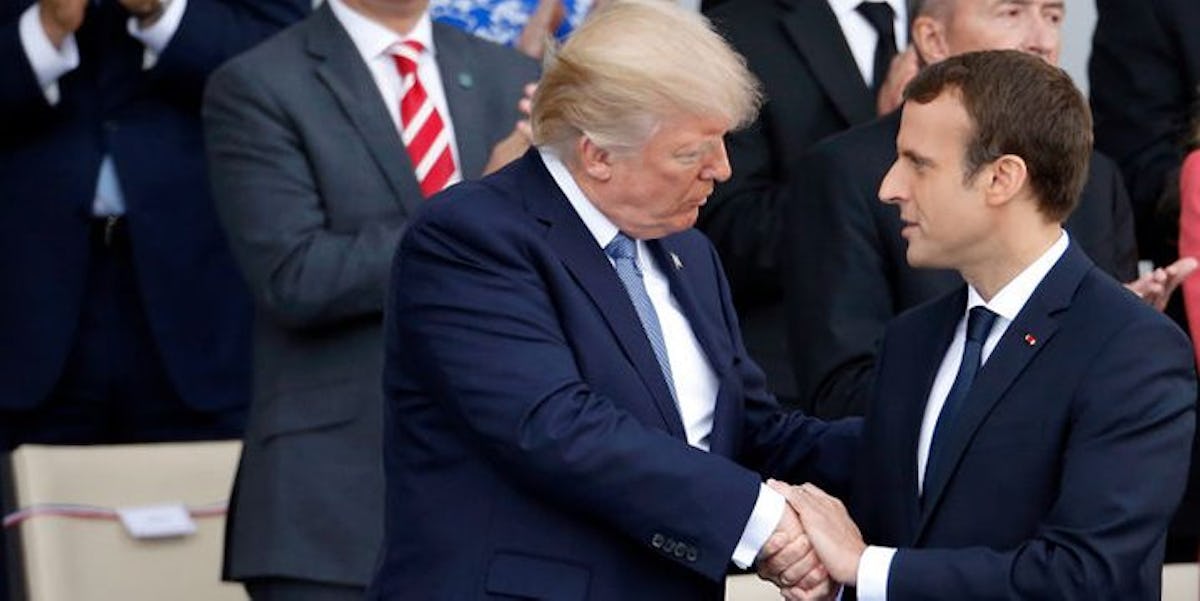 Trump Explains Weird Handshakes With Macron: "He Loves Holding My Hand"
Thierry Chesnot/Getty Images
Finally, we got more details behind the excessively loving handshakes President Donald Trump shares with French President Emmanuel Macron.
The president did so in the best way possible, too: with an excessive explanation.
During a wide-ranging interview with New York Times reporters Maggie Haberman, Peter Baker, and Michael S. Schmidt, Trump said,
[Macron is] a great guy — Smart. Strong. Loves holding my hand.
Trump then continued,
People don't realize he loves holding my hand. And that's good, as far as that goes.
I mean, really. He's a very good person. And a tough guy, but look, he has to be. I think he is going to be a terrific president of France. But he does love holding my hand.
By now you might have gotten the message. Macron really, really loves holding Trump's hand. Well, that's at least the case according to Trump himself, who shared this 30-second super handshake with the French president while visiting Paris for Bastille Day celebrations.
The Bastille Day celebrations also marked the 100-year anniversary of the American entrance into World War I and underlined the longevity of the relationship between the United States and France.
That relationship seemed a bit strained just a few months ago, when both Macron and Trump, who have a fair share of differences, found themselves on opposite sides of the debate on the international Paris climate agreement.
Macron further highlighted those differences when he made a direct appeal to Americans with an altered version of Trump's "Make American Great Again" slogan: "Make our planet great again."
But for as many differences as they have, Macron and Trump seem to have a lot in common, too, not least the fact that both ascended to power as political outsiders.
Oh, and then there's obvious similarity we know now, thanks to Trump's interview.
They're both great guys. Tough. Very strong and love to shake each other's hands.
And that's good, as far as that goes.