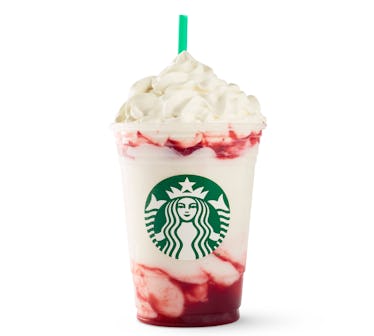 Starbucks' New Strawberry Frappuccino Is So Insta-Worthy & These Pics Prove It
The announcement of a new Starbucks beverage in the summertime usually means you can expect some serious color. When it comes to vibrant hues, the coffee chain's newest offering definitely delivers. Photos of Starbucks' Serious Strawberry Frappuccino will totally brighten up your Instagram feed with all of its pink goodness.
Starbucks is no stranger to introducing fun and colorful frappuccinos to its menu, but some of your favorites leave the menu as quickly as they arrived (lookin' at you, Crystal Ball Frappuccino). Well, feel free to get completely attached to the Serious Strawberry Frappuccino, because the 'Bucks has got your back on this one. According to Starbucks, this pretty magenta frappuccino joins the permanent Frappuccino menu (!!!) on Tuesday, June 5.
Now that you know this summery sip is here for good, you probably want to know what this do-it-for-the-'Gram drink tastes like. Per Starbucks, the layered drink it bursting with flavor. It starts out with a "swirl of strawberry fruit puree," then a layer of newly improved Strawberries and Crème Frappuccino, followed by more puree, and topped off with vanilla-flavored whipped cream. Aren't you so glad this delicious drink is on the menu for good?
It's like an amped-up version of the Strawberries and Crème Frappuccino, but the "reinvented" sip includes ice, milk, and Starbucks' "strawberry infusion blend." Plus, the layers of color are totally gorgeous.
It's super exciting that Starbucks is adding this strawberry sip to the permanent menu, but that's not a regular move for the coffee chain. In fact, last month's announcement of the Ultra Caramel Frappuccino and Triple Mocha Frappuccino to the permanent menu marked the first time in years that Starbucks added a new drink to the permanent Frappuccino menu.
Even though it's been awhile since the coffee chain expanded the Frappuccino menu, I am very much here for the floodgates opening for all the tasty, layered frappuccino beverages. Not only will the magenta hue of the Serious Strawberry Frappuccino completely up your millennial-pink game, but the description of its flavor also sounds like it will perfectly complement any summer day.
If you're wondering about the other sips that have also joined the new Serious Strawberry Frappuccino on the permanent menu, prepare yourself for all the layered goodness you can handle.
The Ultra Caramel Frappuccino is an upgrade of the OG Caramel Frappuccino. You'll get the same caramel flavor you crave, but there is so much more of it thanks to extra layers of caramel sauce. The Triple Mocha Frappuccino seriously delivers in the chocolate department, thanks to drizzles of dark mocha sauce. Oh, and both of these sips are layered and topped with Sweet Cold Brew Whipped Cream. Yes, coffee-infused whipped cream exists, and it's the sweetest caffeine boost you'll ever taste.
Infused whipped creams seems to be a hallmark of the newest additions to the Starbucks menu. Don't forget that the Serious Strawberry Frappuccino is topped with a vanilla-flavored whipped cream.
OK, you can satisfy all of your berries-and-cream cravings with a tasty Serious Strawberry Frappuccino, but what can you grab when your stomach growls for a little something more substantial?
Lucky for you, Starbucks is also introducing new Chicken Chorizo & Tortilla Sous Vide Egg Bites. The flavorful snack is made with chicken chorizo, chipotle salsa, and corn tortilla strips. These new Egg Bites join the fan-favorite Bacon & Gruyere and Egg White & Red Pepper Egg Bites on the permanent Starbucks menu.
Now you won't have to choose between grabbing lunch or satisfying your sweet tooth. Thanks to offerings like the Serious Strawberry Frappuccino and the new Chicken Chorizo & Tortilla Sous Vide Egg Bites, you can do both.