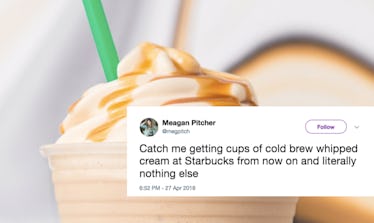 Cold Brew-Flavored Whipped Cream Exists & Twitter Wants It On Everything
Starbucks
Starbucks is rolling out three new menu items to make your summer a little sweeter, including a new light and fluffy whipped topping that will forever transform your morning (or afternoon, or evening) coffee routine. Starbucks' Sweet Cold Brew Whipped Cream, announced on Tuesday, May 1, is now available at locations across the United States and Canada. The cold brew coffee-flavored topping is already taking the Twitterverse by storm — and coffee fanatics everywhere sure do seem to be loving it. Here are tweets about Starbucks' Sweet Cold Brew Whipped Cream that'll get you excited to try it.
If you haven't caught wind of the Starbucks' latest whipped cream flavor, let me be the first to tell you that the Sweet Cold Brew Whipped Cream does live up to its hype. Just scroll through your Twitter feed if you don't believe me. It is soft and pillowy in texture, like a true whipped cream should be, but the unique flavor combination is the real game changer here. The sweetened aerated topping is blended with a rich mix of Starbucks cold brew coffee, dark caramel sauce, and white chocolate mocha sauce. Yes, please. Twitter users everywhere seem to be in agreement that the Sweet Cold Brew Whipped Cream is one of the best things to hit the Seattle-based coffee chains' menu in a long time. I couldn't agree more.
This whipped topping is almost too good for words. Lucky for you — and me — the Sweet Cold Brew Whipped Cream is here to stay. Yep, you read that right. Unlike some of Starbucks' other fun menu items that have been rolled out in recent memory, the Sweet Cold Brew Whipped Cream will be hanging around for good. If this is not enough to get you pumped up about your next Starbucks run, then I don't know what is. Oh, keep in mind that you can get the Sweet Cold Brew Whipped Cream on just about any drink you'd like for an extra 50 cents. Want a dab or two on your hot coffee? Go for it. Do you need a little sweet to counteract that doppio espresso? Sweet Cold Brew Whipped Cream is about to be to your new best friend. The possibilities are endless.
You know what pairs well with coffee? More coffee. Or at least coffee-flavored toppings. So, consider adding a blast or two of the sweet stuff atop your next caffeinated beverage order from Starbucks. To make the whipped cream even better, baristas make it in Starbucks' stores daily. Yup, it can only get better from here.
While you are there, try out one of Starbucks' two new blended beverages: the Ultra Caramel Frappuccino and the Triple Mocha Frappuccino. These sweet and icy drinks promise bigger, bolder flavor than their siblings by offering layers of rich frappuccino sweetness and extra texture to tickle your tastebuds (plus gooey layers of caramel or mocha sauce, depending on which drink you try). Luckily, each of these new frappuccinos is layered with the Sweet Cold Brew Whipped cream, too, so make sure you try them both. I know that's going to be my plan. Honestly, what have you go to lose? Nothing.
Well, Starbucks fans have spoken. Let it be known that Sweet Cold Brew Whipped Cream is truly a blessing from the coffee gods. These Tweets are serious proof that Sweet Cold Brew Whipped Cream is just as extra as it sounds — and you need to try it ASAP. So run — don't walk — to your closest Starbucks location. With over 13,000 Starbucks stores across the country, there is really no excuse. Pictures or it didn't happen.