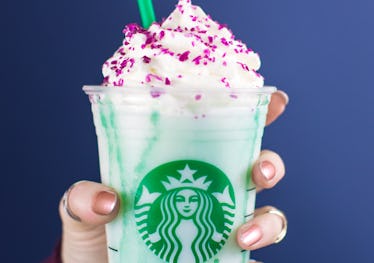 Starbucks Officially Released The Crystal Ball Frappuccino & It Looks Magical
Starbucks
Everyone was buzzing earlier this week when photos of a rumored new Starbucks drink made the rounds on Instagram. The drink in question is called the Crystal Ball Frappuccino, and Starbucks hadn't officially confirmed the upcoming release. The posts of the colorful sip were enough to make people believe that this frappuccino fantasy could become reality. Well, Starbucks' Crystal Ball Frappuccino is here, so you can finally get your hands on this magical sip.
The Crystal Ball Frappuccino is officially available on Thursday, March 22, according to Starbucks. It sounds like it tastes as delicious and looks as colorful as the other Instagram-worthy Frappuccinos (like the Unicorn Frappuccino) that Starbucks is so well-known for. You'll recall from the spring 2017 release of the limited-time Unicorn Frappuccino, that the drink boasted a sweet and tart flavor that was created with mango syrup, sweet pink powder, and sour blue drizzle.
This new Frappuccino from Starbucks has a similarly fruit inspired flavor. According to an email press release, the drink is made with a crème Frappuccino base which is infused with peach and turquoise sparkles. Then it's all finished with a sprinkle in one of three colors to tell your fortune. Blue foretells adventure, green good luck, and purple is for "magic, wonder, and enchantment." But like any fortune, you won't know what you're going to get in advance! Yum, mystery.
And the look of the Crystal Ball Frappuccino is as picture-perfect as ever. With vibrant turquoise swirls seen throughout the drink and colorful rock-candy sprinkled on top, you won't want to miss an opportunity to post this looker of a sip on your Instagram Story.
As with all good things (and apparently all colorful AF Starbucks Frappuccinos), the Crystal Ball Frappuccino will not be around for long. When news of the Crystal Ball Frappuccino was first unofficially making the rounds, it was reported that the drink would only be around for four days or as long as supplies last. According to Starbucks, the drink will only be available from March 22 to March 24 in the U.S. and Mexico while supplies last.
Starbucks has apparently been on its Frappuccino game lately. Starbucks Australia got a new frozen sip in February with the Caramel Popcorn Pretzel Frappuccino, and Starbucks Asia welcomed spring a little early with the arrival of the Strawberry Honey Blossom Crème Frappuccino on Feb. 27.
The last new Frappuccino to hit the U.S. was back at the end of 2017 when the Black and White Frappuccino joined the menu. Even though every Frappucino is beautiful in it's own way, this one might be the most magical one yet.
The aesthetics of these frozen treats might be strong, but they're apparently driving Starbucks baristas mad across the globe. Braden Burson, a Starbucks barista from Colorado, posted a video on Twitter (that now has been deleted) begging the public not to order the infamous Unicorn Frappuccino. According to People, Burson said that making that drink was one of the most stressful moments of his entire life.
He said,
Today, it came out, and I have to tell you, please don't get it. I have never been so stressed out in my entire life, it has been insane! I have unicorn crap all in my hair and on my nose. If you love us, as baristas, don't order it! It's so difficult to make! And people were coming in, left and right, drive thru and in the front! So, for the love of God and everything that is good: Don't. Get. The. Unicorn. Frappuccino.
Hopefully the Crystal Ball Frappuccino is easier to make than its pink counterpart. I feel for you Burson, but I'm not sure I can resist ordering just one of those specialty drinks. After all, spring is on its way and this is the perfect treat to get me excited for the end of those dreadful chilly days.
So grab your pals and nab this drink while supplies last.
And Instagam influencers, get your cameras ready.