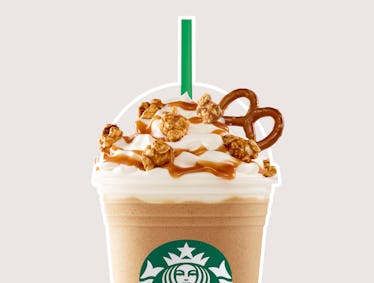 Starbucks' Latest Drink Is The Perfect Blend Of Sweet & Salty, & I'm So Hyped
Starbucks
Starbucks just keeps finding creative ways to take all of my coins. First, the company announced their Unicorn Frappuccino (which I ordered way too many times, BTW); then I discovered their refreshing Passion Tango Tea Lemonade; and now, Starbucks' new Caramel Popcorn Pretzel Frappuccino has surfaced and my mouth is seriously watering. There's just one thing that has soured my dreams of getting my hands on the concoction: it's not available to everyone.
UPDATE: A rep for Starbucks tells Elite Daily that the frappuccino is only available for a limited time in participating stores in Australia, and, sadly, there's no plans to bring it to the United States at this time. We'll just have to keep dreaming!
EARLIER: On Feb. 28, Starbucks Australia debuted a picture of the crunchy creation on their Instagram account. According to the company's website, the sweet treat features their signature Pop'zel syrup (which they describe as a combination of popcorn and pretzel), pieces of caramel popcorn, salty pretzels, and is topped off with creamy whipped topping and a caramel drizzle, creating a "perfect nosh-able treat." In usual fashion, the drink is also available in their classic sizes Tall, Grande, and Venti, however, it looks like the only people who will be able to purchase the beverage are those who live in Australia — or at least for now, which is why I'll just have to dream about what it would taste like (or try to make my own, but I highly doubt that it'd turn out as delectable-looking as the real thing). Elite Daily reached out to a representative for Starbucks to try to find out more about the drink, and I'll update you when we have more info.
Are you salivating yet? Or crying, maybe?
That isn't the only thing that Starbucks Australia is offering its customers.
As if the pretzel news wasn't agonizing enough, on March 3, Starbucks Australia also uploaded a picture to their Instagram, showcasing a new, multi-colored bagel in honor of Mardi Gras. The treat is filled with a thick, white cream cheese, and looks like it'd go perfect with a cup of original Pike Place Roast coffee.
*Long sigh*
And Starbucks Australia isn't the only chain with extras to offer. Starbucks Thailand and Starbucks Hong Kong are also offering a limited time Strawberry Honey Blossom Creme Frappuccino, which might also make you envy the people who can actually get it. It's made with a strawberry cream smoothie, honey, freeze-dried strawberries, pink rice puffs, and smooth whipped cream. It's just not fair that all these magical creations are available in foreign countries, and I want to know who I have to email to demand that such delectable treats be available in the United States, too.
There are some drinks that will be available in the United States, though.
The good news is that, on Feb. 27, the coffee chain announced that it would be adding two new limited time macchiato drinks to its menu to bring in the springtime: the Coconutmilk Mocha Macchiato and the Iced Cinnamon Almondmilk Macchiato. Both will be available for purchase in participating stores in the United States and in Canada, which, I admit, give me a little bit more solace.
According to the company's press release, the coconut milk beverage is a hot drink that includes steamed coconut milk, and chocolate mocha and caramel sauce to create a delicious drink with "beautiful layers" that's perfect for those icky, cold spring days that some of us (me) hate so much.
On the other hand, the iced beverage was inspired by horchata, a "popular beverage in Spain and Latin America." It's described as a "signature espresso, the creaminess of almond milk and sweetness of cinnamon dolce syrup are topped with Starbucks signature caramel cross-hatch and a sprinkle of cinnamon dolce topping," according to the release.
All I can say is, YUM! It'd be far fetched to say that I won't be bitter that the pretzel drink isn't available in the U.S., but at least these seem like close seconds that are worthy of my dollars. I still might send that email, though.