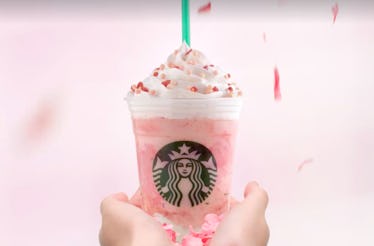 This New Pink Starbucks Drink Is A Perfect Tribute To Springtime
Starbucks is known for ushering in every new season with a perfectly fitting drink. Even though spring has not yet officially sprung, Starbucks took matters into their own hands and crafted a beverage fit for the highly anticipated blooms of spring. Starbucks' Strawberry Honey Blossom Crème Frappuccino is so perfectly pink that you'll want to get your hands on this spring dream as soon as possible.
The catch here is that this new beverage is currently only available at Starbucks Thailand and Starbucks Hong Kong locations. If you're lucky enough to find yourself headed that way, though, make sure you hit up Starbucks right after you pick up your bags. Why? Well, because the Strawberry Honey Blossom Crème Frappuccino debuted on Feb. 27, and it is only available for a limited time.
Now, the name alone conjures up images of a warm spring day, but what exactly is in the Strawberry Honey Blossom Crème Frappuccino? According to a translated post on the Starbucks Thailand Facebook page, the drink is made with a strawberry cream smoothie, whipped cream, honey, freeze-dried strawberries, and crunchy pink rice puffs. You'll notice that a pink theme is present in most of the ingredients, and that's because the drink itself was inspired by the pastel pink color of cherry blossom petals, according to the Starbucks Hong Kong website.
The seasonally-hued ingredients aren't just thrown together into a cup, though. The Strawberry Honey Blossom Crème Frappuccino is expertly crafted to create the most beautiful and delicious drink to welcome the season. It starts out with a layer of honey-flavored whipped cream; next, it's topped with the strawberry cream smoothie complemented by the freeze-dried strawberries; finally, it's finished with another swirl of honey-flavored whipped cream and sprinkled with crunchy pink rice puffs. The end result is a seriously pretty-in-pink sip that will be the perfect addition to your Instagram page.
I know, I'm totally rubbing this hard-to-get springtime drink in your face, but how can you not be obsessed with this colorful creation (even if you can't get your hands on it right now)? Beyond being aesthetically pleasing, Bustle also reports that the flavor profile has a perfect balance of sweet and sour with the sweet honey and tart strawberry flavors perfectly complementing each other.
Starbucks certainly chose the perfect plant from which to derive inspiration for this gorgeous creation. The cherry blossom shines through in the month of February in Thailand, and the beauty of the blossoms is most certainly matched in Starbucks' Strawberry Honey Blossom Crème Frappuccino.
Of course, the Strawberry Honey Blossom Crème Frappuccino not only sports the vibrant pink of the cherry blossom, but it one-ups the plant by, well, being delicious. So, if you're lucky enough to order up a Strawberry Honey Blossom Crème Frappuccino from a Starbucks Thailand or Starbucks Hong Kong location, please remember to post it for the slightly (OK, very) jealous Starbucks fans stuck stateside.
As for the unlucky Starbucks lovers unable to get a taste of this springtime sip, you can at least enjoy the beautiful evidence of its existence on social media.
Before you start bombarding Starbucks with requests to bring the Strawberry Honey Blossom Crème Frappuccino to U.S. Starbucks stores ASAP, you might want to make sure that you include another drink in your plea. Apparently Starbucks Asia is more excited for spring than any of the other stores, because 11 markets in Asia began selling the limited-time only Butterfly Pea Lemonade Cold Brew. Joining the ranks of Instagram-worthy Starbucks beverages, the Butterfly Pea Lemonade Cold Brew gets a violet hue from blue butterfly pea flower tea when it reacts with the citrus in the lemonade.
OK, I think I've teased you enough with these out-of-reach sips perfect for your springtime enjoyment. You can't deny that these drinks are super pretty, though, so there's no shame in perusing all the photos of this latest Starbucks Thailand creation as you await the sunnier days of spring — and keep your fingers crossed as you hope for the arrival of a U.S. Starbucks springtime drink. Here's hoping!