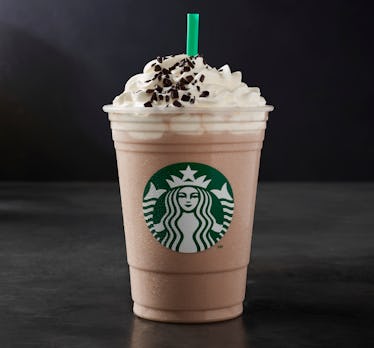 Starbucks' New Black & White Frappuccino Is Perfect For A Chill New Year's Eve
As the holiday season (and year) winds down, you might find yourself running around in an attempt to clear your to-do list to help you ring in the new year stress-free. While you might not be able to get to everything you wanted to get done in 2017, you can certainly try — and your favorite coffee spot has just the drink to help you do it. So, what is Starbucks' Black and White Frappuccino? It might just be the secret weapon you need to ensure that you have a "chill" New Year's Eve.
It looks like Starbucks is taking a cue from the grand tradition of trying something different in the new year. The coffee chain is introducing three new drinks to help ring in 2018, and one of them is the Black and White Frappuccino. This chilly soon-to-be favorite is a part of the Black and White Mocha Collection, and it will be the perfect festive addition to your New Year's Eve plans.
The Black and White Frappuccino starts out with a tasty combination of dark mocha sauce, white chocolate mocha sauce, and Frappuccino roast coffee. Milk and ice are added to make it frosty, and then it's blended all together and topped with whipped cream and chocolate "sequins" (because even Frappuccinos like to sparkle for the holiday).
As I get older, involved New Year's Eve plans sound more like a hassle than a good time, so there is actually a good chance that you will catch me watching the Times Square Ball Drop (from the comfort of my couch, of course) with a Black and White Frappuccino in hand. For those of you who are still filled with New Year's Eve spirit, you might find that you don't have time to indulge in this new beverage before the new year. Don't worry, though, because it will definitely make for the perfect New Year's Day pick-me-up — you know you'll need it.
This isn't Starbucks' only new addition to the menu, though. The Black and White Mocha Collection also includes a couple beverages to warm you up, like the Black and White Hot Cocoa and the Black and White Mocha. If you've gotten used to the holiday flavors that Starbucks serves up every holiday season, you can still indulge for a limited time.
There's even better news if you've fallen deeply in dairy-free chocolaty love with one of Starbucks' newest additions to its menu, the Toffee Almondmilk Hot Chocolate. You'll be glad to know that Starbucks has decided that you can warm up with this sip anytime because it will be available all year long (yay!).
New Starbucks sips aren't only available in-store, though, The coffee chain has some other exciting product releases coming your way all throughout 2018. Come Feb. 2018, you'll be able to find some new versions (Vanilla & Fig and Sweetened Black) of the classic Starbucks Cold Brew right there in your grocery store. If you prefer a Starbucks staple with a twist, then you'll be glad to know that Starbucks is also introducing ready-to-drink Almondmilk Frappuccinos in Vanilla and Mocha this spring.
So, even though the year winding down and the stress of trying to prep for 2018 might be getting to you, you can always get through it by hitting up your favorite Starbucks and treating yourself to the new Black and White Frappuccino. A few sips of this soon-to-be favorite will chill you out, and you'll be ready to take on whatever the new year has in store.
Check out the entire Gen Why series and other videos on Facebook and the Bustle app across Apple TV, Roku, and Amazon Fire TV.