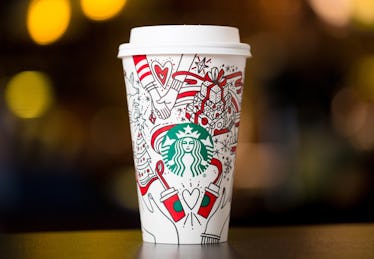 Starbucks' Toffee Almondmilk Hot Chocolate Is Here For Good, So Celebrate The Season All Year Long
For those who enjoy walking in a winter wonderland, I have marvelous news that's guaranteed to make your holidays — and beyond — a lot brighter. Your favorite coffee shop will allow you to enjoy seasonal treats whenever your heart desires, so you can feel festive regardless of what the calendar tells you. "How long is Starbucks' Toffee Almondmilk Hot Chocolate available?" You'll be sipping well into the new year.
Joining the ranks of Peppermint Hot Chocolate, Snickerdoodle Hot Chocolate, and Salted Caramel Hot Chocolate, the Toffee Almondmilk Hot Chocolate is the latest hit from Starbucks that's sure to be your new favorite order. Luckily, you don't have to worry about trying it before the end of December, as it will be available year-round, just like the other hot chocolate treats. Christmas in July takes on a whole new meaning, wouldn't you say?
This new item is just the right amount of sweet. None of the tastes overwhelm one another, so the blend of Almondmilk, toffee, and chocolate complements each other well. If you're OK with adding dairy, a whipped cream finish is the way to go (especially if your barista is kind enough to add chocolate shavings to the mix). No judgement if you order a Venti.
Beginning on Nov. 21, customers will have the option of indulging in the chocolatey goodness. The Toffee Almondmilk Hot Chocolate starts off with steamed Almondmilk that's mixed with mocha sauce and toffee nut syrup. To add the perfect touch to your morning bev (which honestly tastes more like a dessert) add whipped cream and Caramel Brulée topping. For those who are in search of a dairy-free option, hold the whipped.
Though available any month you'd like, the Toffee Almondmilk Hot Chocolate ushers in an important time of year for Starbucks. The coffee giant has an annual tradition of putting out festive holiday cups, but this year, it decided to let customers put their own spin on things. Thanks to a color-in design option, you can satisfy your chocolate craving and unleash your creativity to boot. Oh Starbucks, you certainly know the way to our heart.
To put one last positive spin on things, those with warm beverages will receive a cup sleeve, which provides the most important message of all this time of year: "Give Good."
"Giving good can be as small as someone opening the door for you, or recognizing the people that enrich your life — your child's teacher, a caregiver, a family friend," Leanne Fremar, executive creative director for Starbucks, stated in a press release. "The holidays are a time to celebrate all the good we give to each other and our community."
Not only can you order something sweet, but you can feel as though you're participating in a powerful message. It's equally as important for treats to taste good as it is for its recipients to do good. Feeling really generous? Get some hot chocolate for your cube buddies while you're on your way to the office.
Though these hot chocolate treats are available year-round (even if the holiday cups are not), you're going to need to find a way to rock that hot chocolate any month. Might I suggest taking a peek at the Pink Cold Cups? There's a bit of pizzazz with each offering that'll put a spring in your step and make your order shine brighter than any Christmas tree ever could. The Pink Stainless Cold Cup ($19.95), the Pink Sequins Plastic Cold Cup ($18.95), and the Pink Glitter Cold Cup ($14.95), are available at Starbucks locations inside grocery stores, airports, hotels, and retailers such as Target.
Now more than ever a hot chocolate is definitely in order. Enjoy your sweets, friends — whenever you want to have them.
Check out the entire Gen Why series and other videos on Facebook and the Bustle app across Apple TV, Roku, and Amazon Fire TV.