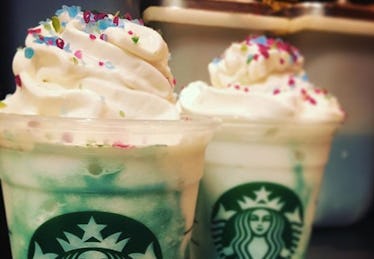 Starbucks Might Be Releasing A Crystal Ball Frappuccino & It Sounds Magical
It's difficult to think of anything more exciting than the release of a new Starbucks drink. The latest rumored beverage from your favorite coffee chain wasn't even announced yet, but it sounds so good that you won't mind a little preview. Although the information about this new frappuccino seems pretty solid, you still might wonder if it's really happening (since it hasn't been officially confirmed by Starbucks). So, is Starbucks releasing a Crystal Ball Frappuccino?
According to all the hype leading up to the rumored Crystal Ball Frappuccino, "signs point to yes." OK, so that's technically a Magic 8-Ball response, but you get the gist that this magical creation is reportedly set to arrive in Starbucks stores on Thursday, March 22, according to Cosmopolitan. Elite Daily reached out to Starbucks for comment, and they said they do not have any details to share on new beverage launches at this time.
So what can you look forward to when you get a Crystal Ball Frappuccino? Well, plenty of Unicorn Frappuccino comparisons are being thrown around because the Crystal Ball Frappuccino is similarly fruity and colorful. The Crystal Ball Frappuccino is reportedly a peach flavored cream-based Frappuccino complete with an Instagram-worthy turquoise swirl coloring, per Business Insider. Oh, and it's also topped with whipped cream and sprinkled with colorful rock-candy crystals.
Since the Crystal Ball Frappuccino is reportedly unavailable until March 22, you might think that's all the information you could get about it. Well, it tuns out there was one very friendly barista who shared the reported recipe card with Boing Boing.
According to a photo that captures part of the Crystal Ball Frappuccino recipe, this new drink sounds like a fruity dream! Based off the tweet, some of the main players in the Crystal Ball Frappuccino include peach whipped cream, peach tea infusion, turquoise sparkles, and a candy gem topping. There are also directions about the preparation of a "gem drizzle," and it includes White Chocolate Mocha sauce and a Frappuccino Crème base. I'm assuming the gem drizzle is what will provide those Insta-worthy turquoise swirls.
After I saw the mention of peach whipped cream, I was immediately reminded of the Strawberry Honey Blossom Crème Frappuccino that was released in Starbucks Asia on Feb. 27. In that pink sip, the honey-flavored whipped cream is folded throughout the beverage as it is layered on the top and bottom, so I am really hoping that the peach whipped cream might be used the same way in the rumored Crystal Ball Frappuccino.
TBH, I'm mostly excited about the flavored whipped topping. Right after I wondered if the barista who leaked the recipe will be fired, all I could think about was peach whipped cream.
The only downside (besides not having this tasty creation officially confirmed yet) is that the Crystal Ball Frappuccino will reportedly only be available in Starbucks stores for four days or as long as the supplies last. I hate showing you a future without Crystal Ball Frappuccinos before they even arrive, but their rumored short stay is even more reason to get to Starbucks ASAP on Thursday, March 22.
If you need some Starbucks news to hold you over until then, you can check out their newest drink, Gin Barrel-Aged Cold Brew. Don't worry, you won't get tipsy on your way to work if you order this sip, because the flavor twist comes from Gin Barrel-Aged Rwanda coffee concentrate, lime bitters, and tonic, according to Starbucks. Keeping with the apparent theme of limited-edition offers, this Gin Barrel-Aged Cold Brew is only available at Starbucks Reserve Roastery in Seattle, Washington for a limited time.
Even though Starbucks seems to be specializing in some tasty limited-time only sips lately, you can enjoy the fact that reported soon-to-be-released Crystal Ball Frappuccino should be available nationwide (while supplies last). And if you decide to enjoy this new drink, I see a very good possibility of peach whipped cream in your future.