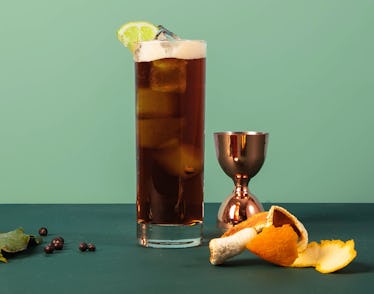 Starbucks' New Drink Is Just Like A Gin & Tonic, So Prepare To Feel Classy AF
Starbucks
Starbucks is getting classy, everyone. The coffee haven released a new pick-me-up that'll transform you into a bougie sipper, one glass at a time. The drink, known as the Gin Barrel-Aged Cold Brew, mimics a high-class boozy beverage — and it's about to be your favorite coffee "mocktail." That's right: Starbucks' Gin Barrel-Aged Cold Brew is like a gin and tonic, and it'll add a different buzz to your morning routine.
Calm down, calm down: I'm not talking about an alcohol buzz. I'm talking about a caffeine buzz. The new drink isn't alcoholic, but it does include coffee (duh). If we're being honest, it's basically just a cold brew with a flavor twist, and it'll wake you up the same way a normal iced coffee would. C'mon, though: Wouldn't you want to treat yourself on a Friday afternoon with some gin-flavored 'joe?
If that sounds appealing to you, you may or may not be out of luck. Unfortunately, the Gin Barrel-Aged Cold Brew is only available at the Starbucks Reserve Roastery in Seattle, Washington for a limited time, starting on March 13. However, if a road trip seems appealing, maybe it's time to rent a van and head to the Starbucks headquarters. I definitely wouldn't judge you, and I'd be jealous of your booze-inspired cold brew.
So, what makes coffee taste like... um, a gin and tonic? The answer is a lot more straightforward than you might think. According to Starbucks, Roastery baristas start the process of making a Gin Barrel-Aged Cold Brew by shaking together slow-steeped Gin Barrel-Aged Rwanda coffee concentrate, a few dashes of lime bitters, and ice. Then, they add tonic to the drink, and finish it off with a lime garnish.
So, yes — this is still considered a "coffee," and you'll probably have trouble ordering it at your local bar.
Since gin-flavored coffee isn't exactly "normal," you're probably wondering how the coffee concentrate gets its gin flavoring. According to Starbucks, the company first hand-scoops unroasted Rwandan coffee beans into oak barrels that were used to age gin by a craft distillery in Seattle called Big Gin. (Keep in mind that before the barrels were used to age gin, they were used to hold bourbon. That's a lot of alcohol.) However, once the beans are roasted post-barrel aging, the alcohol is burned off — and the beans are left with a citrus and caramel notes.
Jennifer Galbraith, Starbucks manager of product development for R&D, explained the process in more detail. She said,
We started with the coffee, our bright and lively Rwandan beans. The beans absorb the botanical essence of the gin, bringing out its bright citrus notes with a sweet caramel finish. The resulting cup is rich, nuanced and unlike anything we've tasted before.
She continued, and stated, "When you go to take your first sip, you'll smell the quinine from the tonic and the botanicals from the gin and the coffee. Then you taste the orange and lemon, finishing with caramel notes from the coffee and the barrel. It weaves together like a piece of fabric and leaves you with a light, refreshing flavor."
If that description doesn't persuade you to take a road trip to Seattle, then I'm not sure what will. This coffee sounds super refreshing, and I'd probably order it over a real gin and tonic any day.
The Gin Barrel-Aged Cold Brew isn't the first barrel-aged coffee beans Starbucks has experimented with. In 2017, the company's Seattle Roastery released Whiskey Barrel-Aged Coffee, which is probably more my speed (I'm a whiskey gal). This product was sold at Starbucks stores with Reserve Bars in the fall — so let's hope the gin-flavored coffee makes its way to the stores, too.