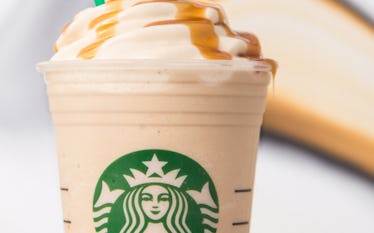 Starbucks' Ultra Caramel Frappuccino Will Be Available For A While, So Order Up
Starbucks
You've probably heard that Starbucks recently added a few new drink offerings to its menu, and one of their latest sips has arrived just in time to cool you off as the temperatures rise. Of course, Starbucks is no stranger to offering delicious, new beverage creations, but seasonal and limited-time drinks don't always stick around as long as you would like them to. So, how long will Starbucks' Ultra Caramel Frappuccino be available?
I have some great news for you if you are very much here for this new caramel sip. According to Starbucks, the Ultra Caramel Frappuccino is a permanent addition to the Frappuccino menu. That means to you can feel free to totally fall in love with this new flavor and never have to worry about saying goodbye once the seasons change. You can give the Ultra Caramel Frappuccino a taste when its hits U.S. and Canada stores on Tuesday, May 1.
According to Starbucks, the Ultra Caramel Frappuccino is basically the original Caramel Frappuccino taken to the next level. Think loads of sweet caramel, hints of coffee, and of course, whipped cream. This is the perfect drink for anyone craving a sweet, cold beverage this summer. I'm so excited to try it.
If you're excited about this here-to-stay frappuccino but you kinda wish there was a little more chocolate involved, then you are in luck. Starbucks announced they are also adding another permanent drink to the Frappucino menu: the Triple Mocha Frappuccino. I can't confirm that the "triple" descriptor guarantees three times the amount of chocolate goodness in this frappuccino, but I'm pretty sure you'll enjoy this sip no matter how you quantify the amount of chocolate in it. According to Starbucks, it's like their original Mocha Frappuccino with extra flavor.
So, how do these newcomers to the Starbucks menu set themselves apart from the frappuccinos you've been enjoying ever since your high school mall days? According to Starbucks, these amped-up frappuccinos take your favorite frozen drink to "the next level," all thanks to "extra texture, beautiful layers, and tons of flavor." It's a good thing these new frappuccinos are here to stay, because you'll definitely want to snap all the photos of the "beautiful layers."
While it's super exciting to learn the Ultra Caramel Frappuccino and the Triple Mocha Frappuccino are permanent additions to the Starbucks menu, you might be surprised to find out this is the "first time in years" that Starbucks has added new frappuccinos to the permanent menu. Of course, Starbucks has introduced plenty of limited-time frappuccino flavors (like the Crystal Ball Frappuccino and the Halloween-themed Zombie Frappuccino), but many times, those flavors are gone from the store almost as soon as they arrive.
While you're enjoying the newest frappuccino flavors (that you don't have to worry about disappearing from the menu), you can keep your drink as current as possible when you add the new Sweet Cold Brew Whipped Cream on top. Yes, coffee and whipped cream have finally joined forces to create what I'm assuming will become my regular topping on any Starbucks drink I order from this moment on. If you decide to also venture into this sweet and caffeinated territory, you'll get a taste of the whipped cream that is made with a "luscious infusion of cold brew coffee, dark caramel sauce and white chocolate mocha sauce," according to Starbucks.
The arrival warmer weather is the perfect time to switch up your order to one of your favorite frappuccinos, and now you have two new options from which to choose. Plus, you can totally enjoy them once the beach days are over, too.