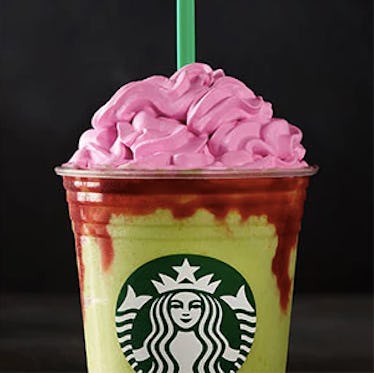 The Price Of Starbucks' Zombie Frappuccino Definitely Won't Scare You — Here's How Much It Costs
If you're anything like me, it's getting to the point where your craving for Halloween sweets is so real that the candy you bought for the trick-or-treaters is in real jeopardy of not making it until Oct. 31. Don't run out to replenish your Snickers stockpile just yet, because Starbucks is here to make sure your scary sweet tooth is satisfied. You'll be glad to know that you can get the sweet sip without making a huge dent in your wallet, too, once you find out how much the Starbucks Zombie Frappuccino costs.
According to a press release on Starbucks' website, the Zombie Frappuccino is available in U.S. and Canada Starbucks stores beginning today, Oct. 26, through Oct. 31 — while supplies last, of course. If you're prone to resembling The Walking Dead before you get your daily dose of Starbucks, then the Zombie Frappuccino is just perfect for you. According to an email sent to Elite Daily from Starbucks, the price of getting your creepy (in the best way) caffeine fix on will vary depending on the market in which your favorite Starbucks store is located.
For a Tall Zombie Frappuccino, it'll run you between $4.75 to $4.95, so take out your wallet and get going.
So what exactly will you be getting when you spend on the latest spooky beverage? The green sip gets its flavors from a caramel and tart apple flavor Frappuccino Crème, and then it is topped off with pink whipped cream "brains" and a red mocha drizzle, according to the press release on Starbucks' website. Sounds like the perfect way to celebrate the season and finally satisfy that nagging sweet tooth. Also, encountering zombies via a Frappuccino is really the only way to go — I'll take red mocha drizzle over actual blood any day.
Starbucks isn't new to the idea of dressing up their classic Frappuccino for Halloween. In years past, customers could order the Franken Frappuccino and the Frappula Frappuccino to celebrate the holiday for a limited time. So, when it came time to think up this year's beverage, Starbucks turned to the staples that you'll find at pretty much every Halloween party. According to the press release, they started "thinking about a Halloween party and monster mash."
Once they decided that the guest of honor at the coffee counter this year would be the Zombie Frappuccino, they got to work on finding some inspiration for the perfect flavor. Apparently, Halloween treats were at the forefront of this brainstorming session because they landed on the always delicious dipped caramel apple, according to the press release. Caramel apples really are a staple even of the season. After chocolate, those caramel apple suckers were always my favorite get on Halloween night.
Now, I don't know how practical it is to serve Zombie Frappuccinos to all of the guests at your party (although that would make it a great one), but Starbucks also has other ways to make sure that you're firmly in the Halloween mood this October. Starbucks created the perfect Halloween playlist that you can stream on Spotify, so you can instead focus your time on figuring out the right technique that will ensure you win first place in the bobbing for apples contest.
Curating crowd-pleasing jams always gives me more anxiety than it's worth, so it's good to know that I'll be set with the Starbucks' Halloween playlist that is described in the press release as a "fun and eclectic ghosts, vampires, zombies and werewolves-themed playlist."
If you're really feeling the Halloween spirit when you go to get your Zombie Frappuccino, you can also pick up a Mummy Cake Pop or a Day of the Dead Cookie. Hey, you'll need to fuel up anyway in the event of an actual zombie apocalypse, so why not do it in Halloween style?
Check out the entire Gen Why series and other videos on Facebook and the Bustle app across Apple TV, Roku, and Amazon Fire TV.