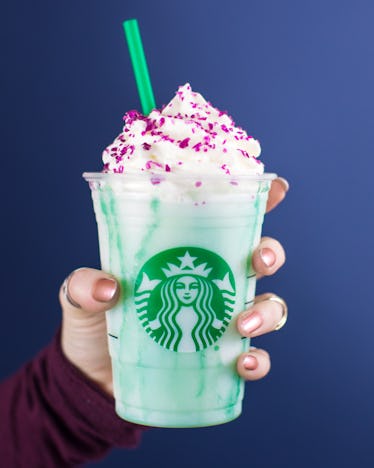 These Pics Of Starbucks' Crystal Ball Frappuccino Make The Future Look So Bright
Starbucks
I predict that your next Starbucks drink will be extra Insta-worhty. Why? Because the coffee company officially released their Crystal Ball Frappuccino, and it's everything your IG needs and more. The mystical beverage was unveiled on Thursday, March 22, and Starbucks customers haven't hesitated to snap a photo of it and post it on social media. How can you blame them, though? The new drink is truly gorgeous, and these photos of Starbucks' Crystal Ball Frappuccino make the future look so freaking bright.
Before you run to your local Starbucks in pursuit of the beautiful beverage, let's talk about what makes the drink so damn pretty. According to Starbucks, the Crystal Ball Frappuccino is made with a crème-based frappuccino base that's mixed with peach flavor and turquoise sparkle. That, my friends, is what gives the drink its elusive "crystal ball" look. TBH, staring into the cloudy turquoise swirls of the drink it almost hypnotizing, and it might make you feel like you're falling under a sweet spell.
That's not all, though: Starbucks' Crystal Ball Frappuccino is topped with whipped cream and sprinkled with rock-candy crystals. According to the press release, the different color sprinkles translates into a different fortune — blue for adventure, green for luck, and purple for "magic, wonder, and enchantment." And no, you can't rig your own future by asking for a specific color sprinkle. Like your fortune, it's a mystery!
This is definitely the enchanted drink I've always wanted, and I'm so excited to give it a try... and take some photos of it, of course.
And if you're curious what your various fortunes might contain, check out what the individual future-seeing Frappes look like.
See?! I told you it was gorgeous. In my opinion, it's even prettier than the Unicorn Frappuccino that Starbucks released in April 2017. The Unicorn Frappuccino featured a bright pink body with eye-catching blue swirls, along with whipped cream that was topped with sweet pink and blue powder. It was pretty, but it definitely wasn't as sparkly as the Crystal Ball. Maybe I'm biased since turquoise has always been my favorite color, but you can't deny the fact that it's perfect for your Instagram.
It looks like many customers agree, because people have already started taking photos of the Crystal Ball Frappuccino and are posting them to their social media accounts. I'm definitely not complaining; all these photos are making me crave one.
After seeing all the cute photos of the Crystal Ball Frappuccino, you're probably wondering how long you have to buy one (and take pics of it). Unfortunately, you don't have too much time. According to Starbucks, the Crystal Ball Frappuccino will only be available for four days, from March 22 to March 26. That means right now isn't the time to scout locations for your Crystal Ball photoshoot. Instead, take a trip to your local Starbucks and take it from there. If you are wondering where you should take a photo with it, I'd suggest a nice crystal shop or a table with a few tarot cards scattered around the drink. You're welcome.
As you may or may not know, word about Starbucks' Crystal Ball Frappuccino leaked a few days before the big release. Apparently, various baristas leaked photos (and even ingredients) of the drink before it was officially announced — but that doesn't mean the drink isn't exciting. In fact, its dreamy colors and sparkly rock candy make the release special, regardless of the sneak peak everyone got early in the week.
If you didn't stop reading this article halfway through to go get a Crystal Ball Frappuccino for yourself, I commend you. However, I highly suggest giving the drink a try as soon as you can. You only have four days to snap a pic and give it a sip, to prioritize your time wisely. If you do end up sharing a photo of the frappuccino, I see many Instagram likes in your future.