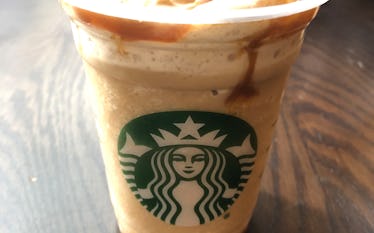 Starbucks' New Ultra Caramel Frappuccino Looks As Sweet As It Tastes
Amanda Fama
You know when you can't decide what to order at Starbucks because you are craving both a giant piece of cake and a caffeine boost? Thankfully, Starbucks has the perfect solution for that problem, and it's called a frappuccino. You get the combination of that sweet flavor you want and an energy boost from the Frappuccino roast coffee in the drink. Starbucks recently added a couple new frappuccinos to the menu, and these photos of Starbucks' Ultra Caramel Frappuccino will definitely wake up your sweet tooth.
Starbucks announced on Tuesday, May 1 that two new drinks are permanently on the Frappuccino menu. The Ultra Caramel Frappuccino and the Triple Mocha Frappuccino are the two newcomers with flavor twists on classic frappuccino favorites. It's the first time in years that the coffee company has added new, permanent drinks to the Frappuccino menu, and, naturally, frappuccino fans are pretty excited about the news.
If you're wondering what these new sips taste like, the flavors are similar to that of their OG counterparts: the Caramel Frappuccino and the Mocha Frappuccino. The Ultra Caramel Frappuccino and the Triple Mocha Frappuccino take the frappuccino to "the next level" with extra texture, beautiful layers, and tons of flavor," according to Starbucks.
Speaking of "beautiful layers," the Ultra Caramel Frappuccino is as picture-worthy as it is delicious. How delicious is it, you ask? Well, the Ultra Caramel Frappuccino comes complete with five layers of frappuccino goodness. It starts out with a layer of Sweet Cold Brew Whipped Cream, then a layer of caramel sauce, blended coffee caramel Frappuccino, more cold brew whip, and it's all topped with a final layer of caramel sauce.
If the description of all its caramel goodness isn't enough to convince you to order this sip the next time you're at the Starbucks counter, then these appealing pictures of the Ultra Caramel Frappuccino might be just the push you need.
After looking at all the photos of the beautiful goodness that is the Ultra Caramel Frappuccino, it has probably worked its way into your regular order rotation. Don't count out this frozen creation's chocolate counterpart, though. Remember, these new sips are here to stay, so you have plenty of time to give them both the ordering attention they so rightly deserve.
If you're like me, then your eye goes right to the whipped cream topping whenever you see a frappuccino. Whipped cream is undoubtedly the perfect addition to your favorite frappuccino beverage, and now Starbucks has made whipped cream even better than you ever thought it could be. When Starbucks announced the arrival of the Ultra Caramel Frappuccino and the Triple Mocha Frappuccino, the coffee chain also revealed new Sweet Cold Brew Whipped Cream.
Yes, Starbucks has combined coffee and whipped cream, and you can enjoy it on top of your favorite Starbucks sips. What does this caffeinated sweet topping taste like? According to Starbucks, it is a "luscious infusion of cold brew coffee, dark caramel sauce, and white chocolate mocha sauce." Oh, and you can add it to anything you want for just 50 cents.
Spring seems to have sprung all the new drinks at Starbucks, because the coffee company announced the arrival of new Starbucks' cold foam drinks on Tuesday, April 17. So, if you're not in total sweet-tooth mode, you can opt for a Cold Foam Cascara Cold Brew, Cold Foam Cascara Nitro Cold Brew, or Cold Foam Starbucks Blonde Iced Cappuccino.
Honestly, Starbucks has plenty of delicious new chilled drinks from which to choose as the temperatures warm up, so you're sure to order the perfect sip the next time you find yourself at the Starbucks counter.