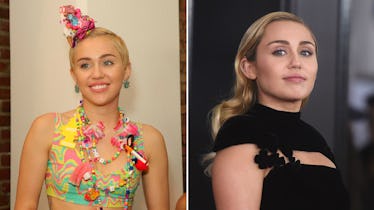 These Photos of Miley Cyrus Show How Much She's Changed Over The Years
Chelsea Lauren/Jamie McCarthy/Getty Images Entertainment/Getty Images
Miley Cyrus is like a fine wine: she's just getting better and better as the years go by. After being in the Hollywood spotlight for over a decade now, it's pretty apparent that our girl Miley has learned the ropes of being a celebrity. We love her for her "tell it like it is" attitude, her sometimes scandalous style, and her honesty in regards to her personal life. Through the years, we've seen her mature in terms of her career, but what has changed the most dramatically is definitely her style. These photos of Miley Cyrus then vs. now will show you just how different the actress and singer has become.
Miley Cyrus: 2006-2007
At just 12 years old, Miley Cyrus gained recognition as her character on Disney's Hannah Montana in 2006, playing a student who also happens to be a pop star. Back then, Cyrus was as effervescent and bubbly as they come, with a future that looked pretty bright. (Spoiler alert: her future was very bright.)
When we see photos of Cyrus on the red carpet in the early '00s, her fashion is a dead giveaway on what era it is – sparkly halter tops, Juicy Couture necklaces, and bangle bracelets? We can't even blame her for her fashion because literally EVERYONE looked like this:
Plus, everyone was ALWAYS giving a peace sign to the cameras. Always.
Miley Cyrus: 2009-2010
But come 2010, Cyrus was no longer just known for her acting skills on Hannah Montana. She starred alongside her now-fiancé, Liam Hemsworth, in The Last Song, a film adapted from the Nicholas Spark's novel of the same name. Fun fact: It was on this movie set that she and Hemsworth met.
In a 2009 interview with Seventeen magazine, Cyrus was asked if she and Liam Hemsworth were dating. She said,
All you want is for one person to say, 'You did a really good job today.' Or 'You look really beautiful,' or 'I was really moved by that.' You just want one person to make you feel good about something you're doing ... Liam has been a big part of that.
Pretty freaking cute if you ask me.
Her style in 2010 definitely evolved from her early Hannah Montana days, and showed a more refined starlet than previous years on the red carpet:
Miley Cyrus: 2011
2011 brought an even lovelier Cyrus. It seemed like the Disney star was finally growing fully into her own, and the world was loving it. Following her appearance on Saturday Night Live, she announced that she'd be going on tour, but would not be performing in the United States.
NBD, we loved Miley either way, and her ~lewk~ was on an entirely new level:
Soft, ethereal, and glamourous, Cyrus pretty much crushed 2011.
Miley Cyrus: 2012
This is where Cyrus really started to transform. In August of 2012, Cyrus cut her hair and bleached it platinum blonde — and she looked badass. After she debuted her new locks, she tweeted that she's never felt more like herself than that moment:
At the MTV Video Music Awards, she showed up rocking a pompadour and a sleek black dress, and I damn near lost my mind:
This new side of Miley was outrageously cool, and — let's all face it — a part of all of us wanted to mimic Cyrus' style.
Miley Cyrus: 2013
Shedding her good-girl image, Cyrus ended up twerking her way through the 2013, and unfortunately announced the ending of her engagement to Liam Hemsworth. It was this year that Cyrus turned the most heads when she ended up grinding on stage with Robin Thicke at the 2013 MTV Video Music Awards:
While a lot of fans were worried, I was just like, "Oh, she's just being Miley."
Seriously, let a girl live, can we?
Miley Cyrus: 2014
Proving that her inner wild child was still in control of her closet, Miley Cyrus hit the red carpet at the amfAR LA Inspiration Gala in a sheer, bondage-style Tom Ford dress.
Long story short: Our girl was still edgy AF:
Can't even lie: I don't hate it.
Miley Cyrus: 2015
Yep, eccentric Miley was at it again this year and, at the 2015 MTV VMA's, we saw some more quirky fashion from the Dead Petz album singer. On stage, she appeared in a barely-there dress covered by verrrry carefully placed pastel-colored dots:
Dig the go-go boots.
But just because she dressed for shock value didn't mean she wasn't being her authentic self. In 2015, she told ET,
I think people try to make me seem a lot less centered than I am ... I'm who I am and you see what I'm doing ... You make choices and sometimes they're right, sometimes they're wrong in life. Mine are magnified.
Basically, give a girl a break, shall we?
Miley Cyrus: 2016
2016 brought our girl Miley back to basics with both her fashion and her lifestyle. Back together with Liam Hemsworth and nailing a spot on the judge panel of The Voice, 2016 was the year that Cyrus was as grounded as we'd ever seen her, and her style reflected that:
That casual bun. That natural-makeup look. That romper.
Yes, Miley.
Miley Cyrus: Present
Nowadays, Miley Cyrus is empowering women to stay away from the things that won't fulfill you in your life. In Miley's interview with Billboard in May 2017, she said,
This is crazy ... I like to surround myself with people that make me want to get better, more evolved, open. And I was noticing, it's not the people that are stoned. I want to be super clear and sharp because I know exactly where I want to be.
Now, she's living her best life, most recently performing at the 2018 Grammys with Elton John and showing everyone just how timeless she can be:
Let's all bow down to the queen of ever-changing style, Ms. Miley.
Whether you're rocking a crop top or a Cinderella gown, you're always keeping us guessing — and we love it.