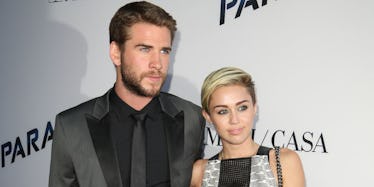 This PDA Might Prove Miley Cyrus And Liam Hemsworth Are Back Together
REX/Shutterstock
A few months ago, it was reported Miley Cyrus and Liam Hemsworth were hanging out again, and the entire world went nuts.
Miley and Liam were Hollywood's "it couple" starting back in 2010 when they starred together in "The Last Song." Those were the days.
It was devastating to hear them call off their engagement in 2013, but now the pair looks to be back together, and we officially have some proof.
There have been several rumors circulating about the couple's current relationship status, so fans haven't been quite sure what to believe.
BUT DON'T WORRY, GUYS. THERE IS PHOTO EVIDENCE THAT MILEY AND LIAM ARE IN LOVE AGAIN (probably). I REPEAT, PHOTO EVIDENCE.
The duo has kept their rekindled love on the DL, but the other day, Miley and Liam were spotted holding hands. YES, FINGERS INTERLACED. PALMS TOUCHING. I can't make this stuff up.
They were spotted leaving LAX after coming back from Australia. Even cuter, it looks like Liam's holding all the bags. AWWWW, I CAN'T.
Hopefully, Miley and Liam comment on their relationship soon and give us the details, because my tween heart is aching to find out. You can check out the full photo here.
.@MileyCyrus and @LiamHemsworth are finally showing some PDA. https://t.co/rbVX8yHM9fpic.twitter.com/mpnRr0jNNq — EntertainmentTonight (@etnow) May 2, 2016
Citations: Miley Cyrus and Liam Hemsworth Spotted PDA (Entertainment Tonight)