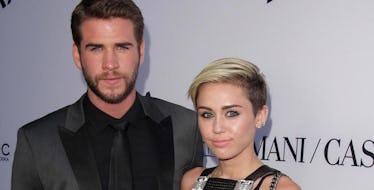 Miley Cyrus And Liam Hemsworth Just Did The Cutest Thing Ever Together
Getty Images
It still feels like yesterday Miley Cyrus and Liam Hemsworth were getting engaged. Those were the days, am I right?
When the couple broke up, the world was left dark, cold and lonely. You probably thought, "Will we ever be the same again?" or, "WTF is life without them?"
But do not worry, everyone! "The Last Song" wasn't the end for Miley and Liam. The ex-lovers met up this past weekend to do the most adorable thing together. Are you ready for it?
This weekend, Miley helped Liam adopt a puppy. They reportedly went to an adoption event for Wylder's Holistic Pet Center & Rescue, and Liam left with an adorable 6-month-old pup!
Check out Liam below with his new baby. HOW CUTE IS THIS?
The caption reads,
Thanks @mileycyrus for loving dogs as much as we do!! You helped find this gigantic, 6 month old puppy a new home. @liamhemsworth you will give this deserving baby a great life!
Miley and Liam are, unfortunately, not dating anymore, but it does bring me happiness to know the two are on good terms. No matter what, their love and engagement will forever live in my heart.
Citations: Liam and Miley Met Up (E! News)