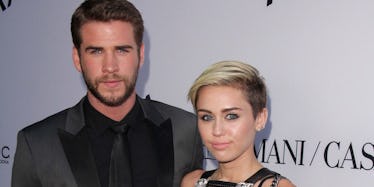 23 Times Liam Hemsworth And Miley Cyrus Were Perfect For Each Other (Photos)
Getty Images
When Liam Hemsworth and Miley Cyrus called off their engagement in 2013, the world became a much sadder, lonelier place.
Liam and Miley were just perfect: goofy, cuddly and obsessively in love. They couldn't keep their hands and eyes off each other.
Recently, the two ex-lovers have been hanging out more than usual. Miley met up with Liam one weekend to do the CUTEST thing together, and the two were also reportedly caught kissing at a Music Festival in Australia.
I desperately hope this means they're rekindling the flame because they seriously just need to get back together already. This is the year love exists again, and it has to start with Liam and Miley.
To help get everyone on the same page and remind you why Liam and Miley were (and still are) perfect for each other, let's look back at 23 of their cutest moments.
1. There was every single time Miley couldn't take her eyes off Liam... https://instagram.com/p/9yJMAlxrl_/embed/
2. ...and he couldn't take his eyes off her. https://instagram.com/p/BAHYiFxK4cq/embed/
3. There was that time they stared into EACH OTHER'S eyes and it was the most magical thing to ever happen. https://instagram.com/p/lIi_rupuMO/embed/
4. There were all the times they cuddled up cozy on the beach, holding each other and kissing passionately. https://instagram.com/p/ovBsISQwMA/embed/
5. See, look at that passion. Get a close look, really soak it in. https://instagram.com/p/BAHWbeuq4ZD/embed/
6. Do you remember when they starred in a freaking movie together so we could witness every inch of their love on camera?!
7. Lots of steamy sh*t happened in "The Last Song." Like when they aggressively made out in the water.
8. And then aggressively made out on land.
9. And when they just held each other lovingly, like the world was collapsing and this was their last time on earth together.
10. Best. Movie. EVER.
11. Now let's talk about how cute they look holding hands and walking down the street.
12. And how they would go out to eat, but get distracted by their love and just make out.
13. Look at the way she holds his arm. This photo deserves to be hung in an art museum.
14. They are SOULMATES. Have I made that clear yet?!
15. And also they're both like, really attractive.
16. Just two flawless human beings in love.
17. Two classy, well-dressed, beautiful, perfect, wonderful humans in love.
18. They're dorks together, too.
19. They're both kissy-faced weirdos and it's adorkable.
20. They're also very stylish. Look at them, they're practically matching.
21. 2016 IS THEIR YEAR. I CAN FEEL IT.
22. THEY'RE GONNA GET BACK TOGETHER. IT'S WRITTEN IN THE STARS.
23. Miley and Liam, the future of our world is in your hands. You know how to save us.